You can find all available recordings of the WSA webinars on the Water Security Alliance Youtube page.

Dr David Tickner
Chief Freshwater Adviser, WWF UK
Think like a river: Bending the curve of freshwater biodiversity loss in a world that might not know or care
26/11/21
Abstract
Hot on the heels of COP26, world attention will soon turn to COP15 of the UN Convention on Biological Diversity at which governments will negotiate new targets to "bend the curve" of global biodiversity loss. Biodiversity is vanishing especially rapidly in rivers, lakes and wetlands. In an increasingly crowded world, with a changing climate, and with policy agendas dominated by health, economy, food security, climate mitigation and other issues, how can we focus efforts to restore freshwater biodiversity? Drawing on ongoing policy discourse and emerging research – including the recently published Emergency Recovery Plan for bending the curve of freshwater biodiversity loss (Tickner et al, 2020, BioScience) – I will make the case for rethinking water management and conservation strategies to meet this challenge. I will set out the need to i) downscale the Emergency Recovery Plan in specific national and catchment contexts, ii) develop critical indicators of freshwater ecosystem health to guide policy and investment; iii) engage sectoral drivers of freshwater biodiversity loss, and iv) develop compelling narratives that frame and magnify key scientific insights. Lastly, I'll offer thoughts on how to equip the next generation of water specialists to "think like a river" so that they can tackle the unprecedented challenges ahead.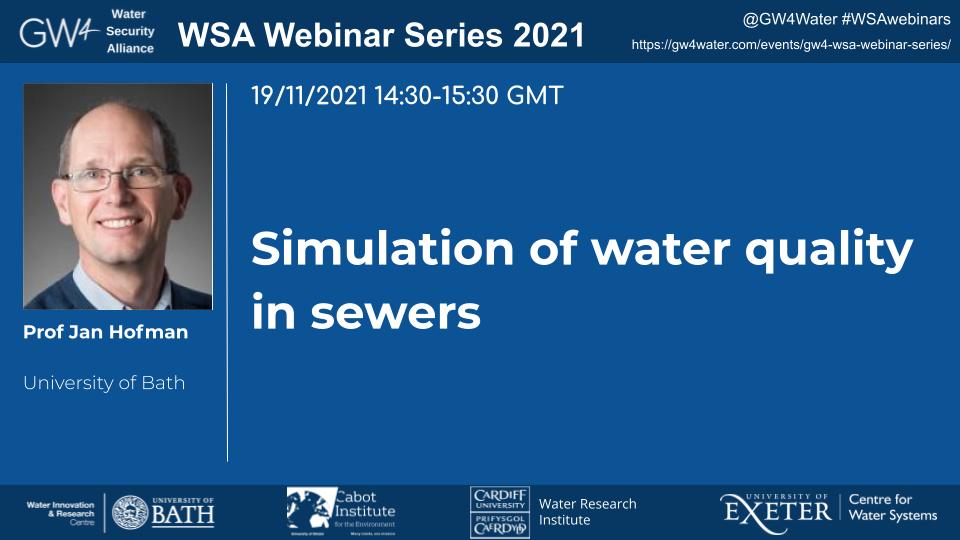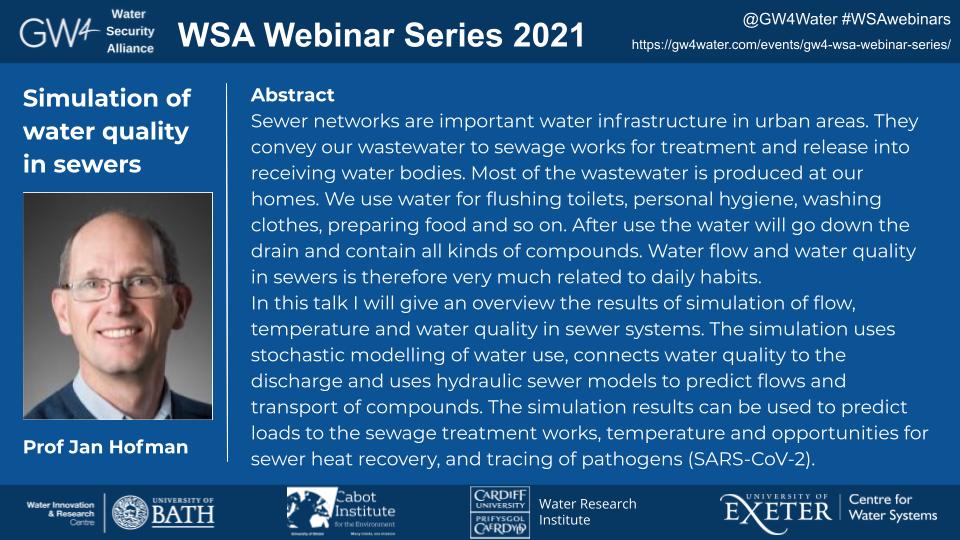 Prof Jan Hofman
Simulation of water quality in sewers
19/11/2021 14:30-15:30 GMT 
Abstract
Sewer networks are important water infrastructure in urban areas. They convey our wastewater to sewage works for treatment and release into receiving water bodies. Most of the wastewater is produced at our homes. We use water for flushing toilets, personal hygiene, washing clothes, preparing food and so on. After use the water will go down the drain and contain all kinds of compounds. Water flow and water quality in sewers is therefore very much related to daily habits. In this talk I will give an overview the results of simulation of flow, temperature and water quality in sewer systems. The simulation uses stochastic modelling of water use, connects water quality to the discharge and uses hydraulic sewer models to predict flows and transport of compounds. The simulation results can be used to predict loads to the sewage treatment works, temperature and opportunities for sewer heat recovery, and tracing of pathogens (SARS-CoV-2).
About Prof Jan Hofman
Professor Jan Hofman is Professor of Water Science and Engineering in the Department of Chemical Engineering at the University of Bath. He has over 30 years experience in research and development in the water sector. Jan is the Director of the Water Innovation and Research Centre at the University. The Centre is a campus-wide environment to engage globally in research and policy on water. The centre (~50 academics) comprises multidisciplinary research teams, with contribution from all faculties and departments. It has wide expertise in the natural sciences and engineering, as well as in social, economic, and political sciences, in policy, and in business management. Jan is also co-Director of the EPSRC Centre for Doctoral Training in Water Informatics Science and Engineering and co-Director of the GW4 Water Security Alliance. Furthermore, he is Leader of the Working Groups on Urban Water Pollution and Urban Water Security in Water Europe. Jan has broad research interests in Water Treatment (drinking water, wastewater), Water Quality (surface waters, sewers, drinking water), Water Security and Urban Water Management.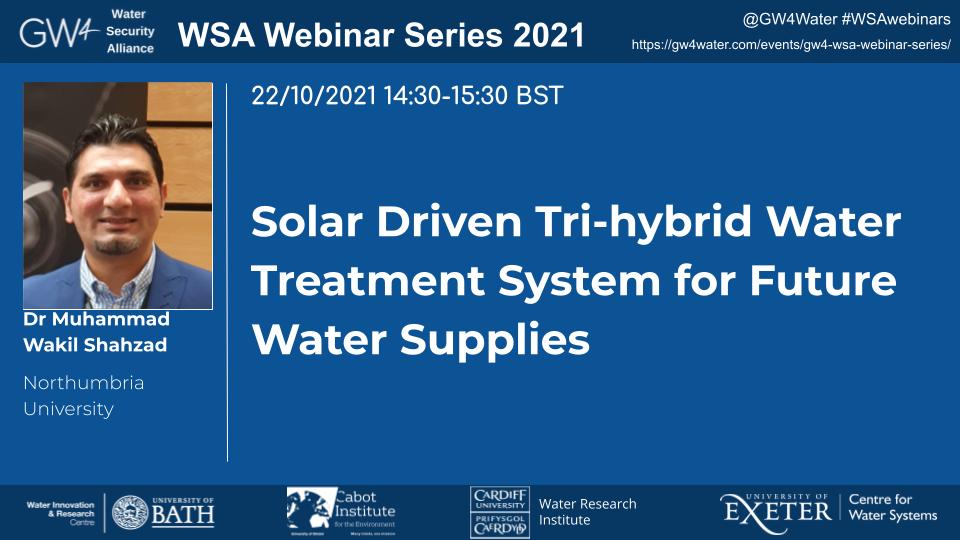 Dr Muhammad Wakil Shahzad
Northumbria University
Solar Driven Tri-hybrid Water Treatment System for Future Water Supplies
22/10/21 14.30-15.30 BST
Abstract
Energy-water-environment nexus is very important to attain COP21 goal, maintaining environment temperature increase below 2oC, but unfortunately two third share of CO2 emission has already been used and the remaining will be exhausted by 2050. A number of technological developments in power and desalination sectors improved their efficiencies to save energy and carbon emission but still they are operating far from their thermodynamic limits. The theoretical thermodynamics limit for seawater desalination at normal conditions is about 0.78 kWh per m3 depending on the initial salt contents. However, practical plants are operated at several folds higher than this limit due mainly to inherent losses in the processes which are incurred in removing dissolved salts. Technological advancement in thermally driven processes hybridization has set the new benchmark for lowest energy consumption that has boosted the water production trend of the desalination industry. In this paper, we presented multi-effect desalination (MED) hybridization with Adsorption (AD) cycle to overcome lower brine temperature limitations of MED and their integration with membrane distillation (VMD) to exploit the energy of rejected brine from the MED system. The overall system is operating 100% with solar energy. The excellent thermodynamic synergy of tri-hybrid MED+AD+MD permits an effective utilization of heat input from sun, leading to a boost in water production up to 3 fold. We showed that the proposed tri-hybrid cycle can achieve the highest performance SUPR>25% of thermodynamic limit: one of the highest reported in the literature up till now. These figures can be translated to less than US$ 0.40/m3: – a lowest specific cost ever reported in the literature. The proposed tri-hybrid cycle is successfully tested at pilot scale at KAUST, Saudi Arabia with solar energy.
About the speaker
I am working as a Sr. Lecturer in the Mechanical and Construction Engineering Department at Northumbria University (NU), Newcastle Upon Tyne, United Kingdom. I worked as a Research Scientist in the Water Desalination and Reuse Center of King Abdullah University of Science and Technology from 2014-2019 before joining NU, UK. I am working in hybrid desalination processes, heating and cooling, solar thermal energy storage and renewable energy research. I won many international awards including, Sustainability Medal 2020, Global Innovation Award 2020, National Energy Globe Award Saudi Arabia 2020 and 2019, Excellence and Leadership Award 2019, IDA Environmental & Sustainability Award 2019. My research is also highlighted at Yahoo business, Nature Middle East, Arab News and many other national and international platforms. We successfully commercialized desalination processes through a spin-off company. I hold 11 international patents. To date, I published 2 books, 17 book chapters, over 70 peer-reviewed journal papers and more than 110 conference papers. I also received three best paper awards in international conferences. I am an editorial board member of NATURE Applied Science journal and serving as a Guest Editor for topical collections. I am also selected as a mentor for the International Desalination Association Young Leader Program (IDA-YLP). I am a member of many professional organizations namely; International Desalination Association (IDA), The International Water Association (IWA) and American Society of Mechanical Engineer (ASME).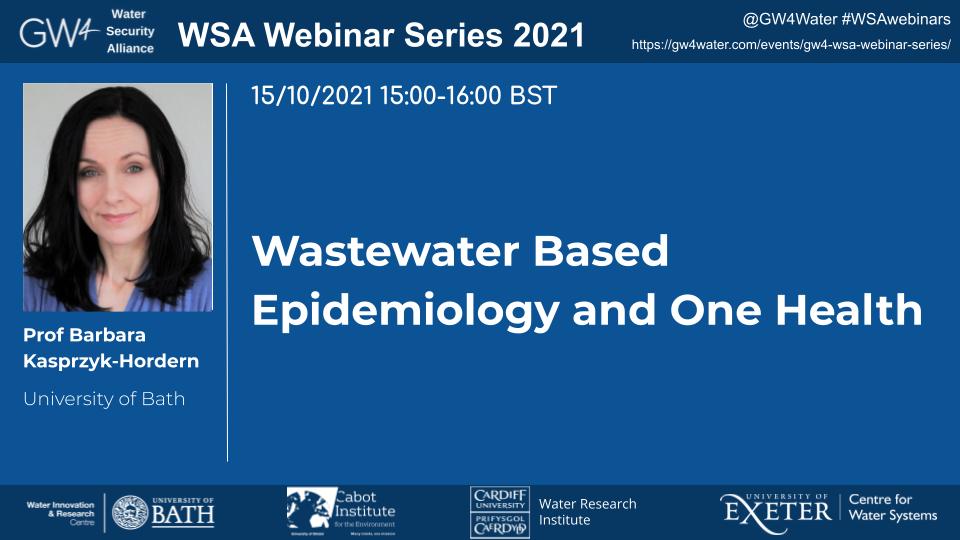 Prof Barbara Kasprzyk-Hordern
Professor, University of Bath
Wastewater Based Epidemiology and One Health
15.00-16.00 BST
Abstract
One Health is a cross sectoral and multidisciplinary effort aimed at a holistic understanding and management of public and environmental health. This talk will present Wastewater-Based Epidemiology as an enabler of One Health. WBE can provide a holistic understanding of city's metabolism encompassing all city's activities in a single model: from lifestyle choices, through to community-wide health status and exposure to harmful chemicals, as well as it can assess effectiveness of management strategies. Several groups of biochemical indicators (BCIs) were investigated (water quality indicators, industrial chemicals, personal care products, pesticides, illicit drugs, lifestyle chemicals, prescription pharmaceuticals, as well as genetic targets, such as antibiotic resistance genes) in an intercity system including five cities/towns located in one river catchment. Chemical mining of wastewater for BCIs was undertaken to understand spatiotemporal speciation of BCIs in the context of geographical as well as community-wide socioeconomic factors. Spatiotemporal variabilities in chemical and biological target groups in the studied inter-city system were observed that can inform One Health actions.
About Prof Barbara Kasprzyk-Hordern
Barbara Kasprzyk-Hordern is a Professor in Environmental and Analytical Chemistry in the Department of Chemistry at the University of Bath and a co-director of Water and Innovation Research Centre. Her principal research interests fall into the three interrelated research areas of environmental, analytical and water sciences.  She has major contributions to understanding chemical speciation of emerging and legacy pollutants in the environment, and in developing and evaluating new (not necessarily technology driven) solutions aimed at reducing environmental pollution levels. Her recent interests are related to environmental pollution and public health. Barbara is currently focusing on the development of an early warning system for environmental and public health assessment via water fingerprinting. She is also exploring the phenomenon of stereochemistry (especially enantiomerism) in the context of environmental fate and effects of emerging and legacy pollutants.
Dr Talia Rosin
WATCH A RECORDING OF THE SEMINAR HERE
University of Exeter
Data Analytics for Automated Near Real Time Detection of Sewer Blockages 
14:30-15:30 BST
Abstract
Blockages are a major issue for wastewater utilities around the world, causing loss of service, environmental pollution, and significant clean-up costs. Increasing telemetry in Combined Sewer Overflows (CSOs) provides the opportunity for near real-time data-driven modelling of wastewater networks. This presentation presents a novel methodology, designed to detect blockages and other unusual events in the proximity of CSO chambers in near real-time. The methodology utilises an Evolutionary Artificial Neural Network (EANN) model for short term CSO level predictions and Statistical Process Control techniques to analyse unusual level behaviour. The methodology was evaluated on historic blockage events from several CSOs in the United Kingdom and was demonstrated to detect blockage events quickly and reliably, with a low number of false alarms.
About Dr Talia Rosin
Talia Rosin has an EngD in Water Engineering from the University of Exeter, working in the area of hydroinformatics. Her work has focused on the development of a novel methodology for the automated detection and diagnosis of blockage events in wastewater systems, as well as the development of ANN models for water level forecasting. She has collaborated closely with industry and was based at United Utilities as a Research Engineer for three years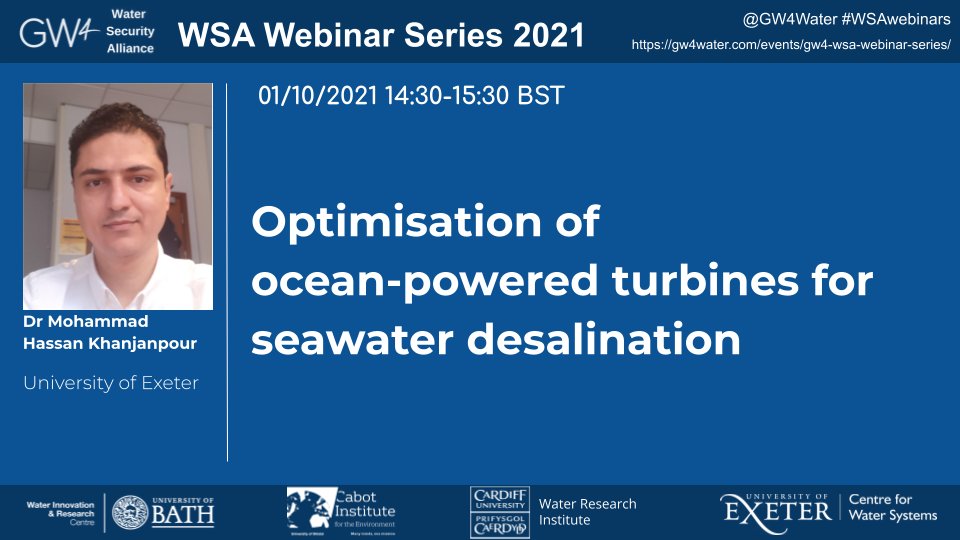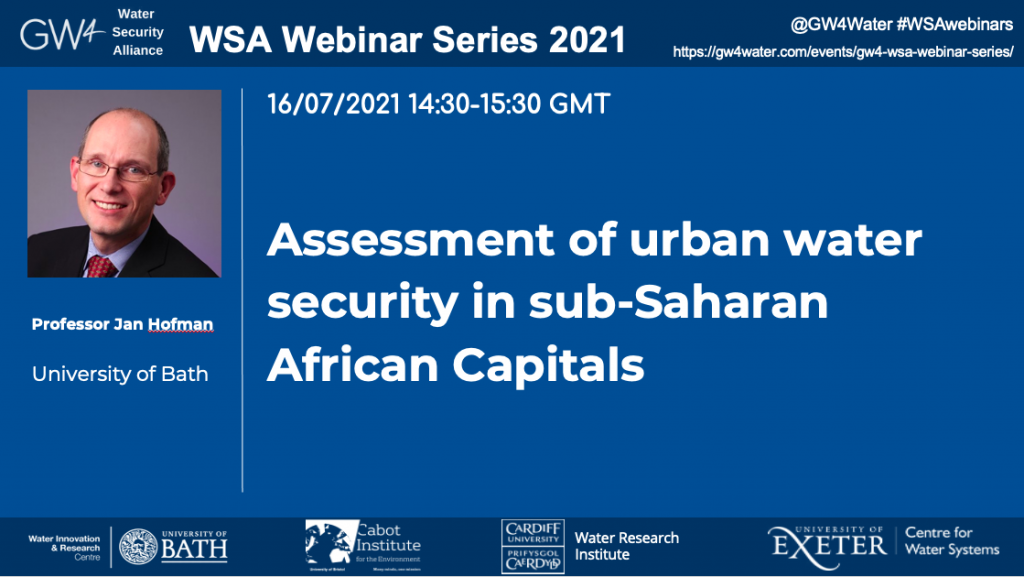 prof Jan Hofman
University of Bath 16th July 2021 14:30-15:30
Title Assessment of urban water security in sub-Saharan African Capitals
Abstract Africa is facing big challenges by demographic development and climate change. It is expected that the African population will double between now and 2050. African cities will grow exponentially towards 1 billion inhabitants by 2050. This is an extremely challenging situation, that needs urgent and adequate response. Since 2019,  WIRC @ Bath, KWR Water Research Institute and UNESCO are working with local young water professionals and MSc students from Bath to assess water security in African capitals. We use the City Blueprint Approach to develop a baseline assessment of the cities' water management and governance performance. The young water professionals will communicate the outcome to the local water authorities and stakeholders and create a bottom-up approach to improve water security in the cities, for which they receive top-down support through UNESCO. Moreover, the young professionals form an expanding network where they can share experiences and best practices. In this way we contribute to capacity building, but also knowledge exchange between the cities can be realised. The presentation will give an overview of the City Blueprint Approach and its application in African capitals.
About Prof Jan Hofman Prof. Jan Hofman is the Director of the Water Innovation and Research Centre and Professor on Water Science and Engineering in the Department of Chemical Engineering since 2015. He is also a Principal Scientist in the Industry, Wastewater and Reuse (IAR) team at KWR Water Research Institute.  Jan is currently working with Prof Kees van Leeuwen and Dr Alexandros Makarigakis (UNESCO, Paris) on the assessment of urban water management with the City Blueprint in African cities. He also uses Water-Use-Info tools for modelling water quality in sewers. Jan is also the Bath lead for NextGen, the European H2020 project, on water in the circular economy.
---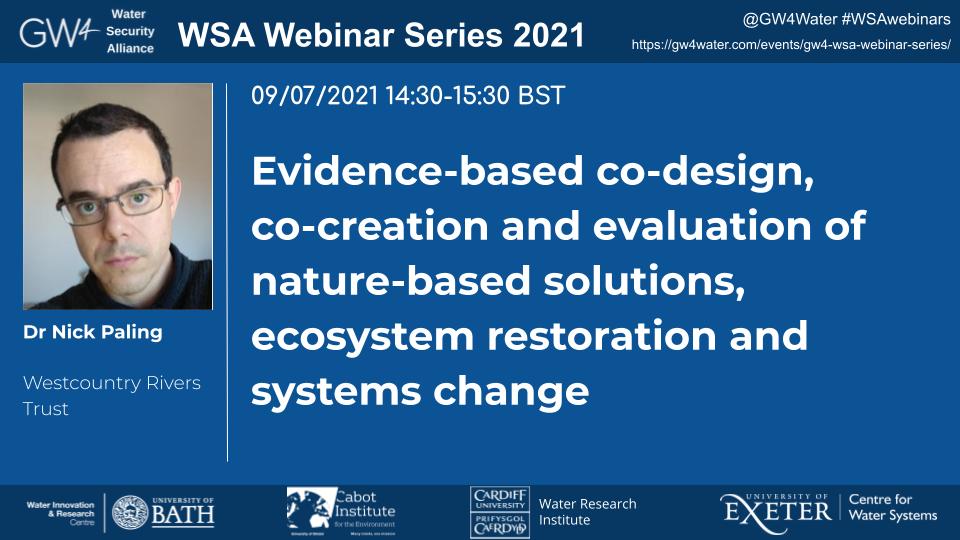 dr nick paling
Westcountry Rivers Trust 9th July 2021 14:30-15:30
Title Evidence-based co-design, co-creation and evaluation of nature-based solutions, ecosystem restoration and systems change
Abstract Westcountry Rivers Trust (WRT – www.wrt.org.uk) is an environmental charity based in the South West of England that uses local, regional and national data together with stakeholder engagement to understand the evidence available and to effectively guide targeted catchment management delivery. Our core ethos revolves around a desire for balanced ecosystems, which may be achieved through conservation actions based on sound science, linked to engagement and education at all levels. WRT have been delivering practical environmental improvements to enhance ecosystem service provision and improve the ecological condition of rivers and catchment landscapes across the South West for 25 years. WRT have spent >20 years developing a robust evidence-base to establishes a link between the processes that are occurring in catchments, the observed/recorded degradation of ecosystems/natural capital assets in a catchment landscape and the impacts (environmental and socio-economic) on downstream receptors. We adopt a participatory 'weight-of-evidence' approach to effectively guide, target and facilitate the delivery of adaptive catchment management for an array of intended ecosystem services-based outcomes. To ensure that catchment management interventions are timely, targeted, necessary and to maximise the ecosystem services benefits realised, we use the latest modelling, surveying and mapping techniques to investigate landscape condition, identify threats to ecosystem health (e.g. sources of water pollution), create integrated catchment management plans and target additional monitoring. These comprehensive reviews of pre-existing and novel primary data are supplemented with additional, locally derived data and refined using expert judgment and stakeholder insights. This integrated approach, marrying an exhaustive review of data and evidence with our significant expertise of on-the-ground delivery, allows us to deliver significantly greater and more diverse social, environmental and economic outcomes. Recently, the WRT toolbox of measures has been extended to incorporate an array of Nature-Based Solutions (or ecosystem-based adaptation measures). In addition to water quality protection measures, it now also includes a comprehensive suite of interventions for: 1) soil & water management; 2) the creation and management of woodland, and 3) both Natural Flood Management (NFM – also known as Working with Natural Processes) and water resource resilience (drought alleviation) measures. WRT have also developed a 'toolkit' for the delivery of collaborative local-governance, participatory strategic environmental planning (including ecosystem services and natural capital) and nature-based solutions co-creation. The WRT Co-Creation Toolkit is an evidence-based, social-capital-creation approach that integrates the theories of design research, action research and participatory design into a highly effective approach that can deliver robust and replicable knowledge-, social- and natural-capital outcomes in an array of contexts. This Toolkit has been tested in diverse landscapes (urban, rural, both), at various spatial scales and with diverse stakeholder groups. Our aim is to build social and knowledge capital among local stakeholders, develop a clear mandate for action and integrate the strands of the programme together.
About Dr Nick Paling Dr Nick Paling, Head of Evidence & Engagement at WRT, specialises in the analysis, visualisation and communication of strategic information to engage stakeholders and ensure that environmental actions are co-designed, targeted and co-created in locations that give the greatest magnitude and diversity of social, cultural, economic and environmental outcomes. For ~15 years, Nick has been working as a 'knowledge-broker' and co-creation-facilitator on a wide array of local collaborative governance, participatory environmental planning, community-based climate resilience/adaptation and NBS co-creation projects (in both urban and rural landscapes). Nick works with stakeholders to build a shared vision of a resilient future landscape based on robust spatial evidence and information via a fully participatory process. He works with citizens, stakeholders, technical specialists and policy-makers to support their learning and build consensus about the challenges faced, before collectively working to target, design and deliver (co-create) the most effective NBS for building community resilience. Since 2017, Nick has been working as a European Commission (Horizon 2020 and Joint Research Centre) Technical Expert in the fields of water-sensitive urban design, urban NBS, strategic evidence (including ecosystem services and natural capital) and collaborative/co-creation approaches to the creation of NBS (including the Living labs approach).
---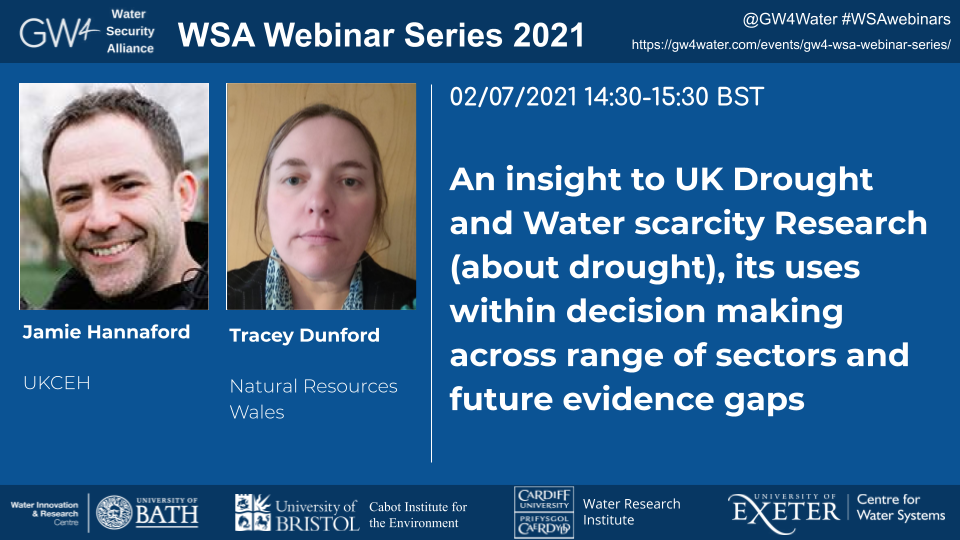 Jamie Hannaford & Tracey Dunford
UK Centre for Ecology and Hydrology (Jamie Hannaford); Natural Resources Wales (Tracey Dunford) 2nd July 2021 14:30-15:30 *A recording link will appear here when available*
Title An insight to UK Drought and Water scarcity Research (about drought), its uses within decision making across range of sectors and future evidence gaps
About Jamie Hannaford Jamie leads the Hydrological Status and Reporting Group at UKCEH, which comprises scientists working on hydrological data management, hydrological monitoring and seasonal forecasting, analysis of past hydrological change and appraisal of future climate change impacts. He is also a visiting Associate Professor at the Irish Climate And Research Units (ICARUS) at Maynooth University in Ireland.
Much of his work surrounds the analysis and exploitation of datasets on the UK National River Flow Archive (NRFA), the UK's principal archive of hydrometric data.  He also leads the National Hydrological Monitoring Programme, which appraises current hydrological conditions in the UK through monthly Hydrological Summaries and also reports on major hydrological events (e.g. the 2018 drought and the 2020 floods). He contributes to the Hydrological Outlook for the UK, in partnership with other CEH scientists and a host of external organisations, including NRW.
One of his main research interests is the investigation of hydrological trends, to assess the evidence for climate change and other impacts on river flows in the UK and Europe. He has published extensively in this field and authored a recent synthesis of the evidence for climate-driven river flow trends in the UK.  More information on Jamie's Research Profile
About Tracey Dunford Tracey has over 20 years experience working within water resources, including hydrometric monitoring, hydrology and water resources planning.  She is now a lead advisor and expert on Water Resources planning, including drought management within Wales.   She leads on policy and guidance for developing water resources management plans and drought plans (including regional plans) that are within or affecting Wales.  She also reviews these plans and advises the Welsh Government on them.
Tracey is the drought co-ordinator for NRW.  A role that helps NRW and others prepare and respond to droughts in Wales. She works with Welsh Government, Water companies, Public Heath Wales and others via Wales Drought Liaison Group.  drought we work with water companies and others to manage effects on people, businesses and the environment.  She works with colleagues and other organisations to ensure we are prepared for our drought response within Wales.   She also leads on co-ordinating NRWs water resources evidence needs and has been an active stakeholder for the about drought research and is currently part of the Steering Group for the RADAR drought comms project.  She is a member of the CIWEM Water Resources Panel.
---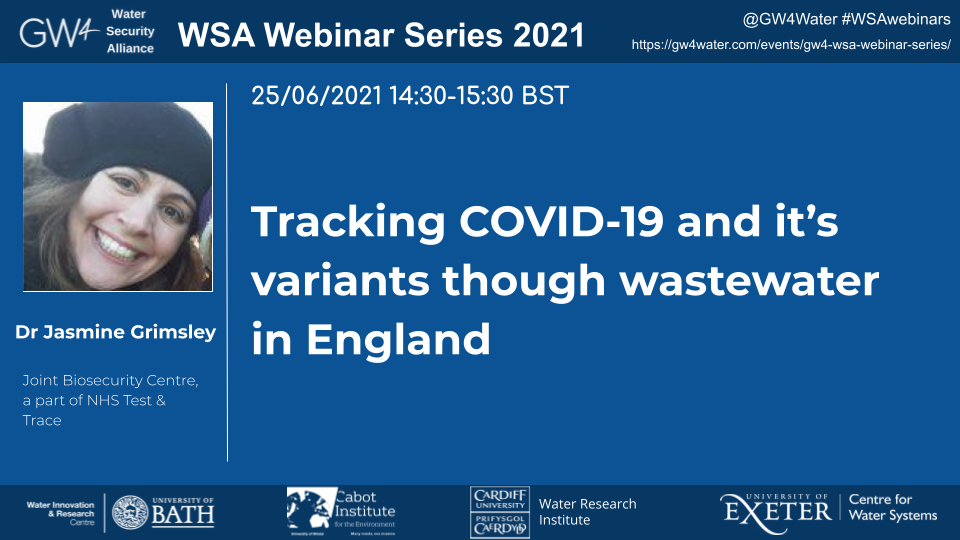 DR Jasmine grimsley
Joint Biosecurity Centre (part of NHS Test & Trace) 25th June 2021 14:30-15:30 *A recording link will appear here when available*
Title Tracking Covid-19 and its variants through wastewater in England
About Dr Jasmine Grimsley Dr Jasmine Grimsley previously headed an neuroscience research laboratory within a medical school in the USA (NEOMED and Kent State)  where she still holds a position as an Adjunct Professor. Her career started at the MRC Institute for Hearing Research where she gained a PhD in Biomedical Science and developed a love for using large data sets to tackle multidimensional problems.  Her current work focuses on generating insights from wastewater on the COVID-19 pandemic; providing insights on prevalence and supporting the COVID-19 response to variants.
---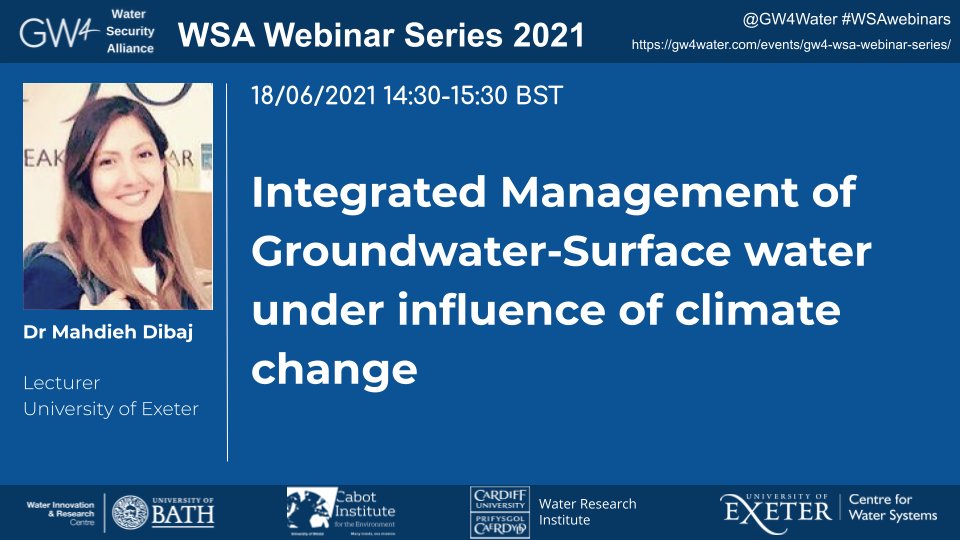 DR Mahdieh Dibaj
Lecturer, University of Exeter 18th June 2021 14:30-15:30
Title Integrated Management of Groundwater-Surface water under influence of climate change
Abstract This study presents the development of an integrated surface and subsurface model for transient analysis of groundwater flow, salinity intrusion, river flow and river inundation, to aid decision-making and management of water resources. A coupled framework, linking subsurface flow and surface hydrodynamics, was developed and applied to a real-world case study of Pingtung coastal aquifer in southwest of Taiwan. FEFLOW was adopted to develop a three-dimensional variable-density finite element model to study the combined effects of over-abstraction and seawater intrusion. The developed groundwater model was coupled with river network model using MIKE 11. The developed model was calibrated and validated based on observed data. The model was used to analyse the interaction between the surface water and groundwater and the effects on seawater intrusion. Also, the relationship between rainfall, surface water and groundwater recharge lag time was studied.
About Mahdieh Dibaj I recently defended my PhD in Integrated management of Surface water-Groundwater under influence of climate change, seawater intrusion, over abstraction, and flooding. The project was partially funded by the Royal Society and the National Taiwan University (NTU) and the results were presented in several national/international conferences and published in high ranked journals, with two more papers under review. I also have experiences in working as a graduate research assistant in an international project supported by the British Council. Since September 2020, I am working as associate lecturer in Engineering department of the University of Exeter.
---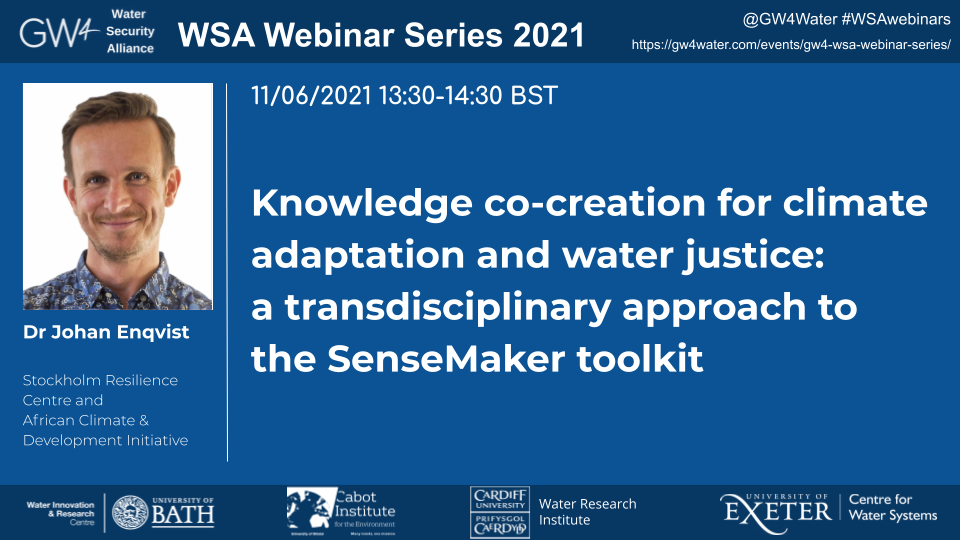 DR Johan Enqvist
Stockholm Resilience Centre and African Climate & Development Initiative 11th June 2021
Title Knowledge co-creation for climate adaptation and water justice: a transdisciplinary approach to the SenseMaker toolkit
Abstract This talk explores a method for joint knowledge production to serve climate adaptation in the context of both urgent and chronic stressors. In a water governance research project in Cape Town, community activists and researchers collaborated to design a study that could amplify the voices of residents in low-income and informal settlements around water service issues. The project helped to understand the mismatch between government interventions and people's lived realities, and also generated new skills and knowledge to empower the community activists in their efforts to address water injustice in the city. The research also generated important insights about the role of knowledge in shifting from incremental to transformative adaptation, that can simultaneously address environmental and social emergencies. The talk is based on two recent publications: https://www.tandfonline.com/doi/full/10.1080/07900627.2020.1841605?scroll=top&needAccess=true https://www.tandfonline.com/doi/full/10.1080/14693062.2020.1863180
About Johan Enqvist Enqvist's research explores people's relationship to the rest of nature, focusing on values, perceptions and actions to protect, conserve and restore ecosystems and natural resources. He is currently funded by VR (the Swedish Research Council) to investigate how the recent drought in Cape Town, South Africa, affected people's awareness of and behaviour in response to water scarcity. Justice and inequality are important aspects of this work, and Enqvist collaborates directly with various community-based groups and local and international NGOs involved with social as well as environmental issues.
---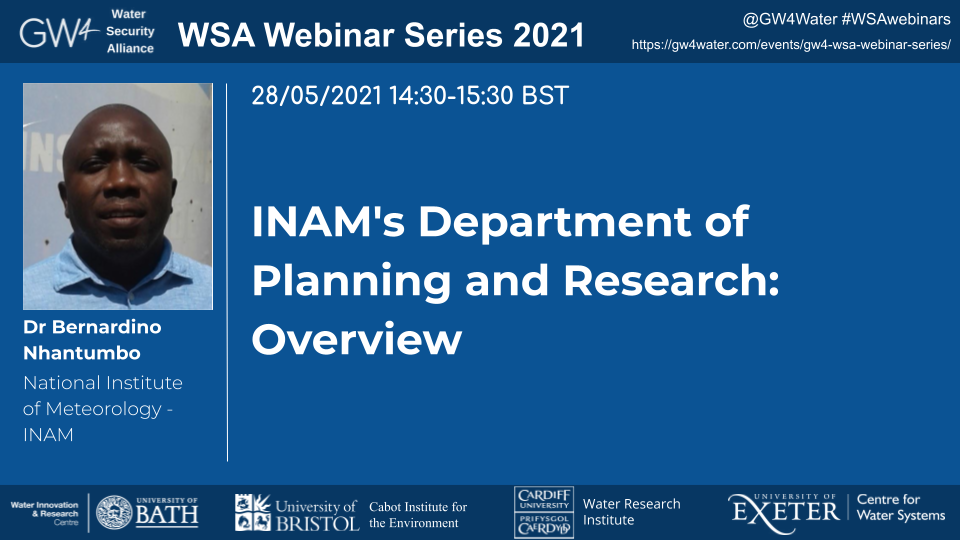 DR Bernardino Nhantumbo
Researcher, National Institute of Meteorology – INAM 28th May 2021 14:30-15:30
Title INAM's Department of Planning and Research: Overview
Abstract INAM's mission is to provide meteorological and climate information to mitigate the impacts of weather and climate-related hazards on lives, livelihoods and the natural environment, ensuring the sustainable socio-economic development of Mozambique. The Department of Planning and Research goal is to strengthen scientific partnerships, research and studies for improved verification, accuracy and reliability of weather and climate. For that, the department is aiming at establishing a climate research programme.
About Dr Bernardino Nhantumbo Bernardino Nhantumbo is currently a researcher at National Institute of Meteorology, Department of Planning and Research, Research Office. Following a BSc Honours in Meteorology from Eduardo Mondlane University, Department of Physics in 2007, he earned his MSc in Ocean and Climate Dynamics and PhD in Ocean and Atmosphere Science from the University of Cape Town, Department of Oceanography in 2014 and 2019, respectively. Bernardino also holds an Accredited Postgraduate Short Course in Constructing and Applying High-Resolution Climate Scenarios for assessing the impacts of Climate Change from the University of Oxford, Department for Continuing Education, in 2014. Bernardino's research focus on in all domains applied Meteorology with emphasis on Climatology and Agrometeorology, including processing large meteorological data, elaboration and dissemination of the seasonal climate forecast to different stakeholders in Mozambique as well as conducting investigations on the prevailing conditions during extreme climate events.
---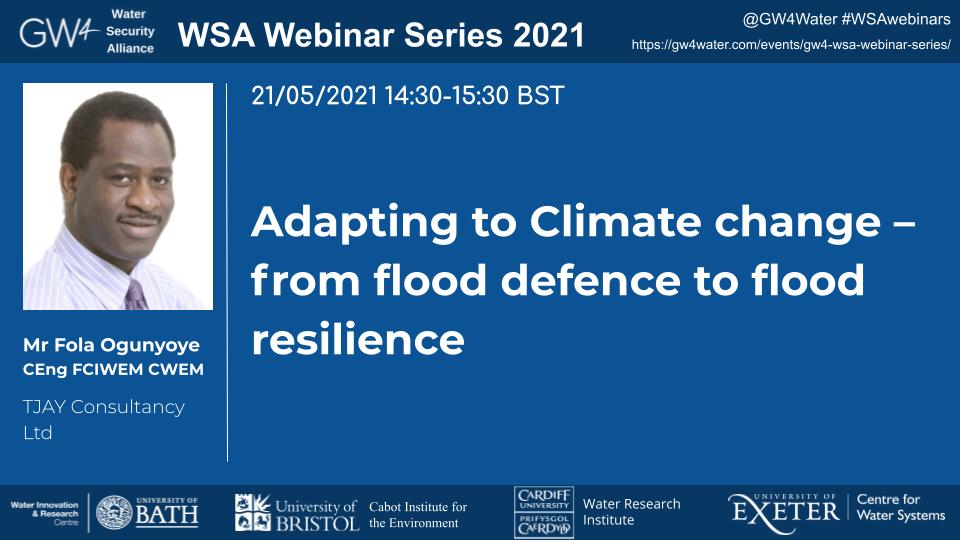 Fola Ogunyoye
Director, TJAY Consultancy Ltd 21st May 2021 14:30-15:30
Title Adapting to Climate change – from flood defence to flood resilience
Abstract The world is becoming increasingly urbanised with more of the population living and working in urban areas. Increasing urbanisation and economic growth can provide significant community benefits but also present a range of challenges. Floods account for about 50% of all fatalities from natural hazards, with an about £25 billion in damages per annum. The impact of climate change on sea level rise, storminess and rainfall is set to increase significantly. Society is therefore faced with the challenge of finding solutions to complex and interrelated problems to enable creation of thriving, liveable and safe places that are resilient to the extremes of water and adapted to climate risks. The presentation will show why flood risk solutions need to be multifunctional and much wider to reduce the probability and consequences of flood risk now and in the future. It will illustrate these with global examples of good practices
About Mr Fola Ogunyoye Fola Ogunyoye is a Chartered engineer and Fellow of the Chartered Institution of Water and Environmental Management. He has over 30 years of experience in the water and flood risk management industry with various roles as a consultant, designer, researcher, operations manager and contractor. This unique blend of experience enables him to deliver innovative, yet practical insights and solutions to water challenges and its interaction with people, places and the environment. Fola has developed and delivered many strategies and schemes to assess flood risk, develop plans and strategies for managing it, and designing many solutions to alleviate the risk of flooding. He has delivered flood risk expert advice internationally, including in the UK, USA, Africa and Europe. Fola has a passion for developing projects that deliver multi-functional outcomes with a good socio-economic/ecological. Central to this is his passion for places and their infrastructure to be water sensitive, water adaptive and water resilient. He has been involved in many projects that have achieved awards for their impact on adapting or creating resilience and leaving positive legacies for future generations. Fola is a lead or co-author of many industry guidance, standards and tools for innovative management of flood risk and its interaction with people and the built and natural environment. Fola has carried out research studies for Defra, the Environment Agency, the Climate Change Adaptation Sub-Committee, the Local Government Association and the European Commission on flood risk management and adaptation to climate change impacts.
---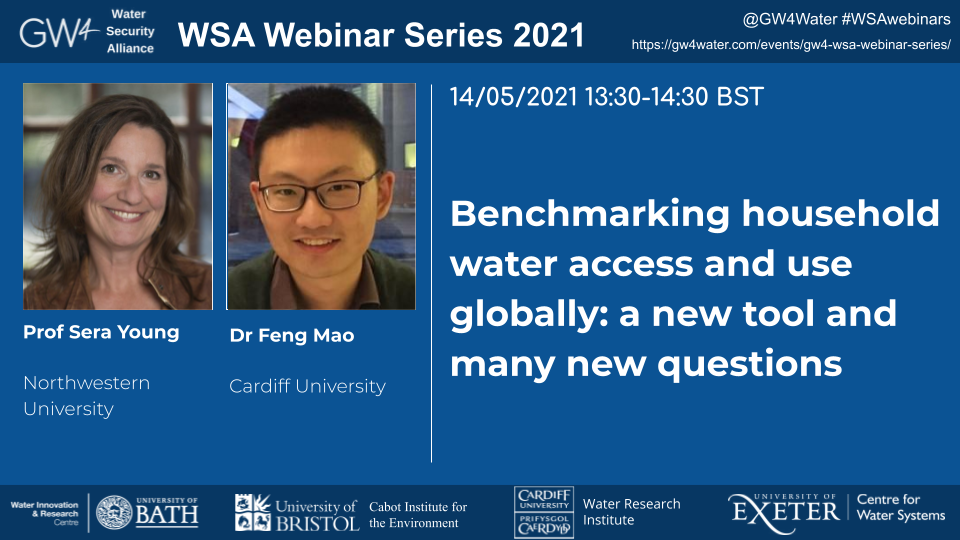 Professor Sera Young & Dr Feng Mao
Associate Professor, Northwestern University (Sera Young); Lecturer, Cardiff University (Feng Mao) 14th May 2021, 13:30- 14:30
Title Benchmarking household water access and use globally: a new tool and many new questions.
Abstract Problems with water quality and quantity are increasing in frequency and severity throughout the world. High-resolution, globally comparable data that go beyond availability to assess access and use have been extremely helpful for understanding the human health impact of other health issues, e.g. food insecurity, but have not existed for water. To fill this gap, Prof Young has led the development of the Household Water Insecurity Experiences (HWISE) scale, the first cross-culturally equivalent way of measuring water access and use (hwise.org). The HWISE Scale can be used to estimate prevalence of household water insecurity and to investigate its causes and consequences. The HWISE Scale is currently being implemented globally, including by the Gallup World Poll, to benchmark water access and use, as well as by Cardiff University in efforts to assess urban water security in East Africa. We will conclude with discussion of new opportunities to use and analyze household water security data.
Increasing water security challenges pose risks to achieving sustainable development. However, there is a wide range of different approaches for measuring water security. For example, it can be quantified through a physical aspect, highlighting the impact of water resources, availability, supply and hazards; it can also be assessed from a human angle, focusing on the water impact on the experiences of households and individuals. In this study, we aim to explore the potential in applying a multifaceted understanding of water security, connect physical water processes with human water experiences using metrics such as the HWISE Scale, and discuss new opportunities in using and analysing household water security data.
About Associate Professor Sera Young Problems with water quality and quantity are increasing in frequency and severity throughout the world. High-resolution, globally comparable data have been extremely helpful for understanding the human health impact of other health issues, e.g. food insecurity, but have not existed for water. To fill this gap, Sera Young, an Associate Professor of Anthropology and Global Health at Northwestern University (Chicago, USA) led the development of the Household Water Insecurity Experiences (HWISE) scale. The HWISE Scale is the first cross-culturally equivalent way of measuring water access and use (hwise.org). It can be used to estimate prevalence of household water insecurity, make decisions about targeting resources, and to evaluate the impact of water interventions. The HWISE Scale is currently being implemented around the world, including by the Gallup World Poll, to benchmark water access and use globally. More about her research here: serayoung.org.
About Dr Feng Mao Dr Feng Mao is Lecturer in Environmental and Physical Geography at the School of Earth and Environmental Sciences, Cardiff University. His research develops new interdisciplinary theories and innovations for understanding and managing resilience and sustainability in the Anthropocene. His research interests lie in the intersection of water, ecosystems, society, and technologies, with a focus on water security through three main themes: (i) aquatic ecosystems and human-water interactions under change; (ii) resilience and sustainability in a development context; (iii) data technologies including low-cost sensor networks and data visualisation.
---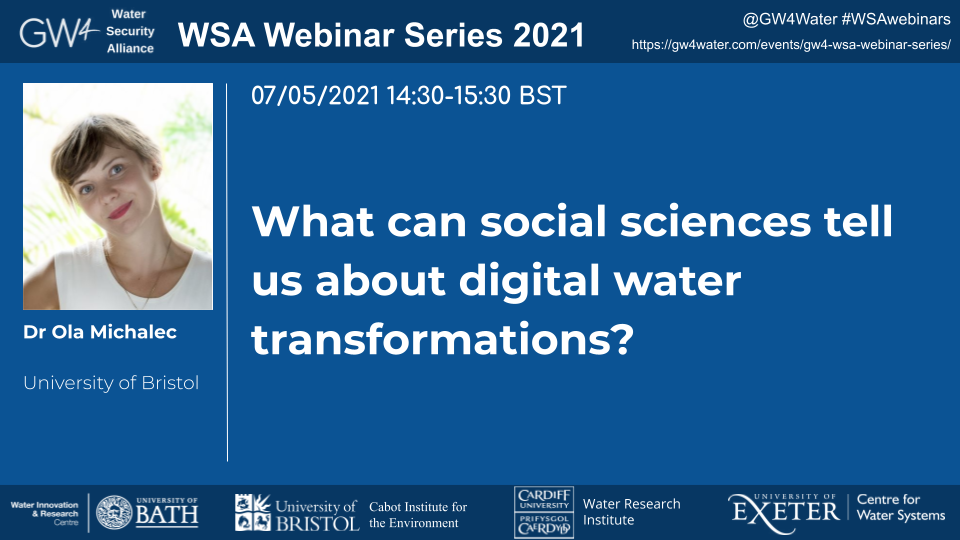 Dr Ola Michalec
Research Associate, University of Bristol 7th May 2021 14:30-15:30
Title What can social sciences tell us about digital water transformations?
Abstract Digital water transformation is often written about as though universally desirable, inevitable and capable of addressing the complex socioecological challenges. However, we should not take digital water innovation for granted; there are tensions and unintended consequences of digital transformation, its social and political dimensions are often neglected. This talk introduces case studies of digital water development, bringing examples of technological innovation into dialogue with literature and empirical research from across the social sciences. From sensing technologies, platform economies to cyber security regulations, digital technologies are reconfiguring how we relate to water system. The presentation will conclude with an outline for a novel, pluralistic and interdisciplinary research on digital water development.
About Dr Ola Michalec Dr Ola Michalec is a social scientist interested in policies and politics of digital innovation and climate change. Currently, she explores 'the making of' cyber security regulations across water and energy sectors.
---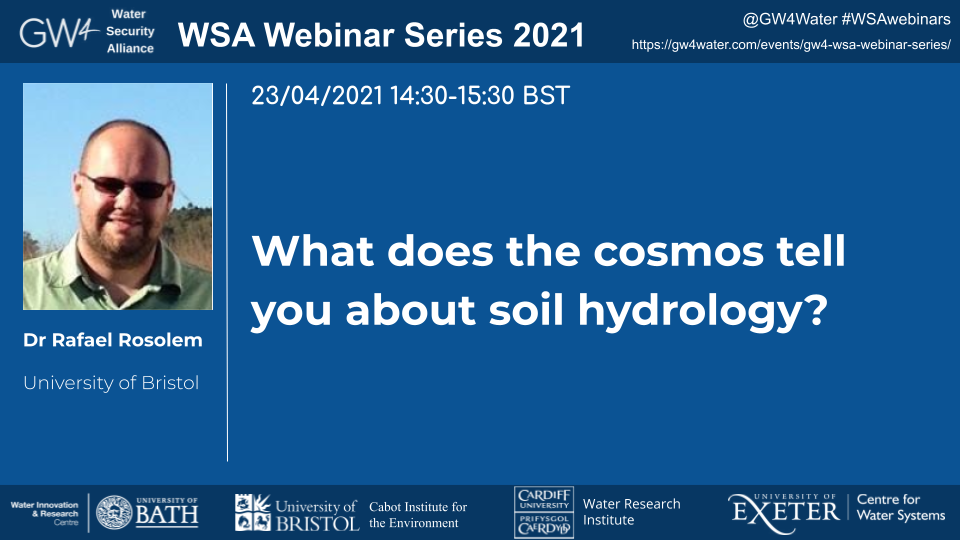 DR Rafael Rosolem
Senior Lecturer in Hydrometeorology, University of Bristol 23rd April 2021 14:30-15:30
Title What does the cosmos tell you about soil hydrology?
Abstract The water stored in soils represents a small compartment of the whole hydrological cycle. Yet, it is one of the key factors controlling hydrometeorological processes at the land surface. For example, soil moisture controls the partitioning of rainfall into evapotranspiration, runoff or infiltration, and relates to our ability in monitoring and predicting floods and droughts. Typically, soil moisture can be estimated with two very different approaches: either with localized point-scale (few centimeters) measurements or with satellite remote sensing products covering a much larger area (many kilometers). With the recent effort to move towards hyper-resolution global land surface and hydrological aimed at (sub)kilometer scale, this presents a challenge as neither methodology estimates soil moisture at the scale of interest. However, in the last decade, the development of cosmic-ray neutron sensing technology has allowed for soil moisture to be accurately estimated at unprecedented sub-kilometer scales, on the order of hundreds of meters with a single sensor. Since the early 2010s, this technology has evolved and been continuously applied globally with potentially hundreds of cosmic-ray neutron sensors located across a wide range of biomes. This seminar is aimed at introducing this technology to a wider audience, showing examples of applications in the field and in combination with numerical models, as well as highlighting potential challenges and opportunities ahead.
About Dr Rafael Rosolem Dr Rafael Rosolem graduated with a BSc in Meteorology and MSc in Agricultural Systems Ecology, both at the University of Sao Paulo in Brazil. He received a PhD degree from the Department of Hydrology and Water Resources at the University of Arizona before joining the Civil Engineering Department at the University of Bristol in 2013. Dr Rosolem's work focuses on improving the representation of hydrological processes in land surface and hydrological models using experimental data from different regions of the world, particularly from developing countries where data access is limited. He has extensively worked in the Amazon region in Brazil, using flux towers to better inform numerical models, and he has taken part of the pioneer COSMOS project which established the first national network of novel cosmic-ray neutron sensors across continental USA. More recently, Dr Rosolem's research has also focused on the African continent and in the UK.
---
Thomas Beach Digital Solutions for Urban Water Management and Conservation: The UK Perspective
---
Title Managing the Water we Eat Abstract This presentation discusses the central role of water management for the environment and particularly for sustainable food systems. Increasing water scarcity, due to climate change and other environmental and societal changes, calls for a transformational shift in the way we manage water. However, this is challenging as water management is characterized by overlapping decision spaces and scales and inter-dependencies amongst various water users, of which agriculture is usually the largest and responsible for more than 80% of water withdrawals in agrarian economies. Understanding the spatio-temporal variability of water resources as well as the domains of different water users, key actors and their objectives, and drivers and barriers for transformational change in water management is required. A scale-specific approach in which agricultural water use is embedded in a larger systems approach (including natural and human systems) is suggested. This is the basis for policy coherence and designing of effective incentive schemes to change agricultural water use behavior
About Professor Ulhenbrook Professor Stefan Uhlenbrook' s main expertise includes water and sustainability assessments, hydrological process research and water resources management with focus on developing solutions for pressing water challenges. He is a renown academic and frequently invited speaker at high-level meetings worldwide. He has led many research and development projects that have demonstrated the impact of global changes on water cycle dynamics in different hydro-climatic regions worldwide, and they provided effective solutions to address these challenges. He is experienced on translating science-based knowledge to effective policies and strategies that contribute to environmental, economic and societal sustainability (i.e. Agenda 2030). Recently, he has enlarged his interest to food production system transformations to provide healthy and nutritious food for all and the central role of water and ecosystems. Stefan Uhlenbrook is the Strategic Program Director Water, Food and Ecosystems at IWMI, Colombo, Sri Lanka. Before he was the Coordinator of the UNESCO World Water Assessment Programme (WWAP) and the Director of the UNESCO Programme Office on Global Water Assessment in Perugia, Italy (2015-2019). He previously worked at the UNESCO Institute for Water Education (now IHE Delft), as Professor of Hydrology (since 2005), Deputy Director (Vice-Rector) for Academic and Student Affairs (2000-2014) and Director a.i. (acting Rector; 2014-2015). Stefan obtained his PhD (1999) and habilitation (2003) in Hydrology at the University of Freiburg.
---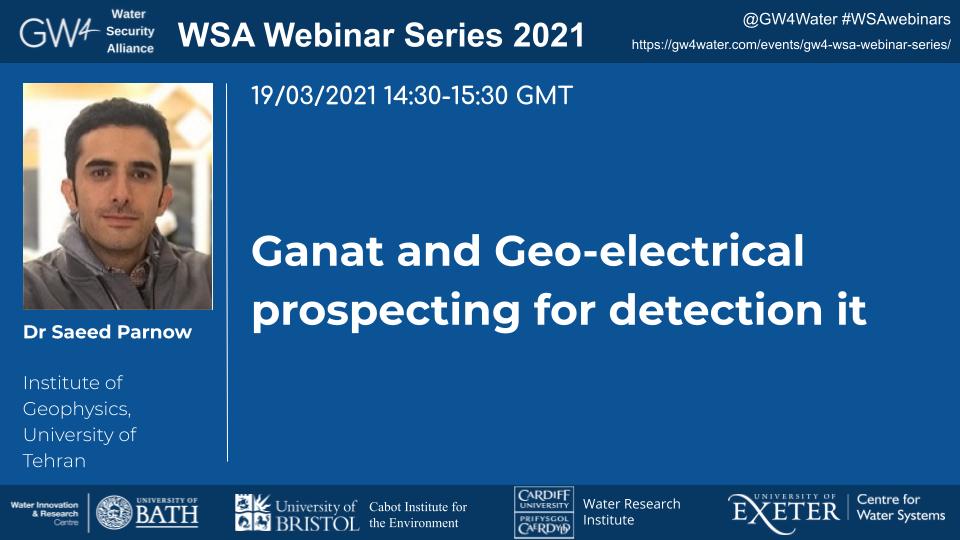 DR Saeed Parnow
Ph.D. Of Geophysics, Institute of Geophysics, University of Tehran 19th March 2021 14:30-15:30
Title Ganat and Geo-electrical prospecting for detection
Abstract In most of Iran's areas, especially dry areas, there are no lakes or rivers on the surface. So, in the past, the water of cities and towns had been supplied by underground water channel systems that are called Qanat. Most of these old channels were abounded and collapsed. Following collapsing of the qanat walls, an essential matter is the detection of these human-made structures to prevent them from possible destruction to surrounding buildings and lifelines. In this webinar, I'm going to briefly speak about the importance, technical features, and the excavation of ganats. Detection of qanats is one of the main geotechnical concerns in the development of cities in most parts of Iran. So, I deal with a geophysical survey carried out in a critical urban area of Kerman, southern Iran. This webinar presents the results of a near-surface survey carried out by the Electrical Resistivity (ER) method.
About Dr. Parnow I, Saeed Parnow, graduated in Geophysics with a Ph.D. degree from the University of Tehran at 2020. I focused on geophysical methods dealing with the upper most crust investigation methods like Ground Penetrating Radar (GPR), Electromagnetic Frequency Domain (EMFD), and Electrical Resistivity Tomography (ERT).
---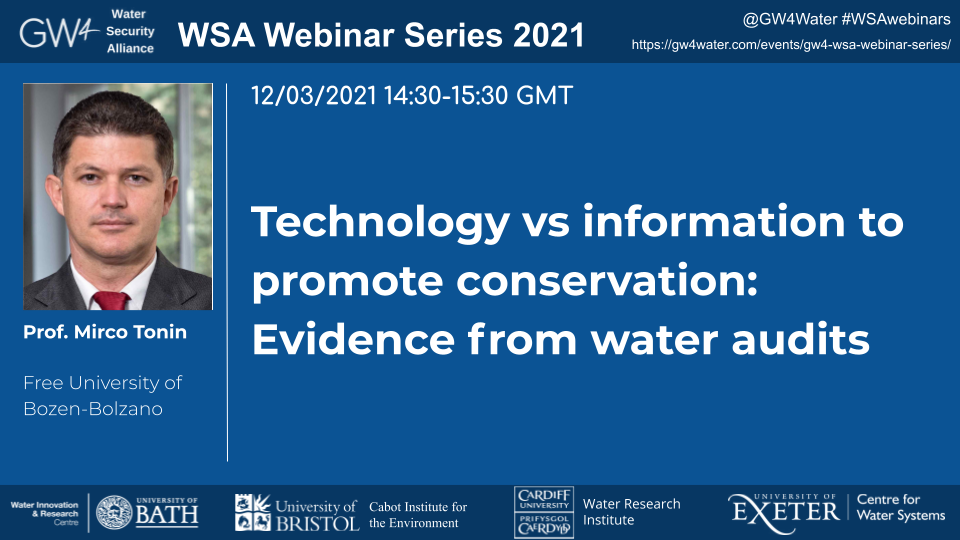 Professor mirco tonin
Professor of Economic Policy, Free University of Bozen-Bolzano 12th March 2021 14:30-15:30
Title Technology vs information to promote conservation: Evidence from water audits
Abstract We study the impact of audits on water conservation, distinguishing between the information and technological components. We observe water consumption for up to 18 months for 10,000 households in the South East of England who received the visit of a so-called Green Doctor. We find that water-saving devices decrease water consumption by 2-4%, with an effect that is persistent over 18 months. Devices reducing water pressure are particularly effective, while shower timers are ineffective. The information component of the water audit has a large initial impact, but this gradually fades to a drop in consumption of 2% after 12 months. Technology appears to be more cost-effective than information provision and this can help in the design of policy interventions.
About Professor Mirco Tonin Mirco Tonin is Professor of Economic Policy and Vice-Dean for Research at the Faculty of Economics and Management of the Free University of Bozen-Bolzano in Italy. He got his PhD from the Institute for International Economic Studies (IIES) at Stockholm University in 2007.
---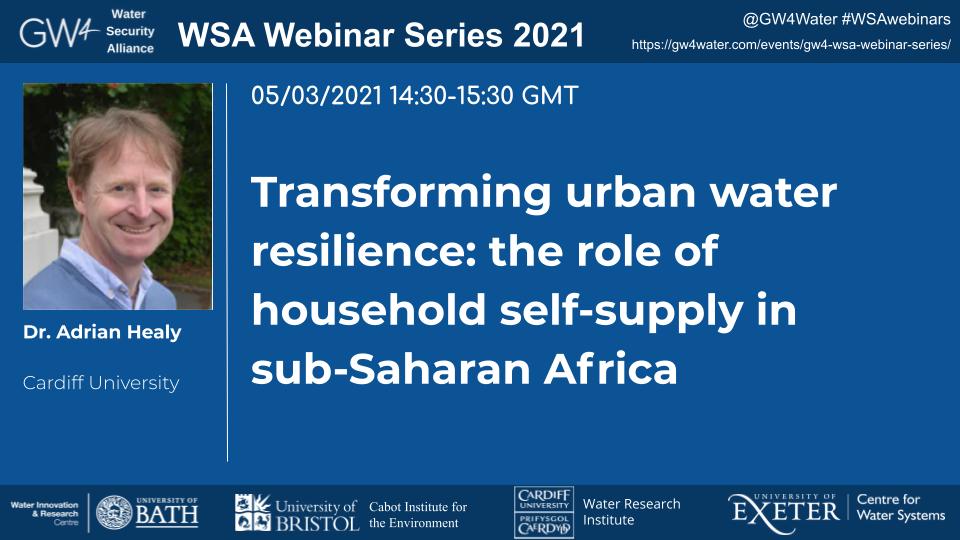 DR adrian healy
UKRI Future Leaders Fellow, Cardiff University 5th March 2021 14:30-15:30
Title Transforming urban water resilience: the role of household self-supply in sub-Saharan Africa
Abstract Water shocks and water stress stretch the ability of governmental authorities to respond, leading individuals to take action for themselves. Individual actions can be a positive element in building collective resilience but may equally undermine collective provision or lead to inequitable outcomes. Across sub-Saharan Africa, urban households are turning to personally-procured non-piped water supplies to ensure the security of their water supplies. In this presentation I explore these trends and suggest that a stronger understanding of household motivations is required in our consideration of urban water security and the longer-term implications of this for the resilience of urban water supplies.
About Dr. Adrian Healy Adrian Healy is a UKRI Future Leaders Fellow, based at the School of Geography and Planning, Cardiff University. He is currently exploring themes of urban resilience and access to water in sub-Saharan Africa (SSA). He has published widely on the theme of regional and urban resilience and is a member of the Water Research Institute at Cardiff University and the GW4 Water Security Alliance (a consortium of the Universities of Bath, Bristol, Cardiff and Exeter).
---
Magali Nehemy
PhD Candidate, University of Saskatchewan 26th February 2021 14:30-15:30
Title Stable isotopes are not enough – Using tree hydraulics to understand tree water use
Abstract The stable isotopes of hydrogen and oxygen (δ2H and δ18O, respectively) have been widely used to investigate tree water source partitioning. These tracers have shed new light on patterns of tree water use in time and space.  However, there are several limiting factors to this methodology (e.g. the difficult assessment of isotope fractionation in trees, and the labor-intensity associated with the collection of significant sample sizes) and the use of isotopes alone has not been enough to provide a mechanistic understanding of source water partitioning. In this talk, I will discuss how measurements of tree water deficit can be used to identify shifts in source water uptake by trees. Our research shows that tree water use is a dynamic process on the time scale of days. I will also discuss how this method could improve our understanding about forest water use at larger scales.
About Magali Nehemy Magali Nehemy is a forest hydrologist and PhD Candidate at the Global Institute of Water Security at the University of Saskatchewan. Before coming to Canada in 2015, Magali worked with forest restauration and sustainability in Brazil where she also got her BSc in forest engineering degree by the Sao Paulo State University (UNESP). In Canada, Magali pursued a master's degree in dendrohydrology, and over the past three years, Nehemy's research has focused on tree water use and the interaction between forest and water resources. As part of her PhD research, she spent three months as a visiting research fellow at EPFL, Switzerland. In recognition to her work, Magali has received the Horton Research Grant awarded to PhD scholars by the Hydrology Session of the American Geophysical Union. Besides her research, Magali enjoys time outdoors hiking and fishing, and lately this Brazilian has been attempting to break a leg doing downhill skiing in the Rock Mountains.
---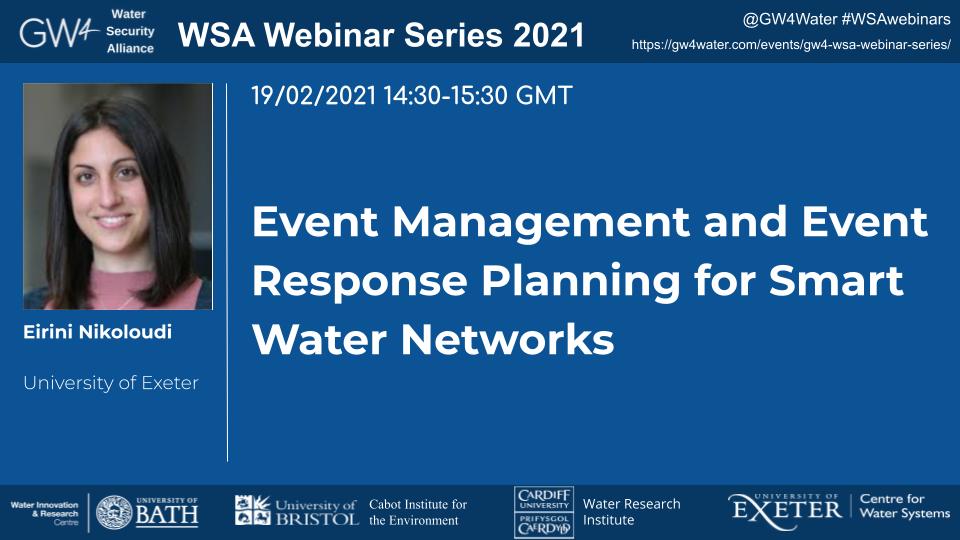 Dr Eirini Nikoloudi
Civil Engineer, University of Exeter 19th February 2021 14:30-15:30
Title Event Management and Event Response Planning for Smart Water Networks
Abstract The water industry in the UK and worldwide has a pressing need to better manage interruptions to water supply caused by various failure events, such as pipe bursts, equipment failures or water treatment work shutdowns. One way of doing this is by making use of the increasingly available real-time sensor data collected in water distribution systems, as well as by using hydraulic models in real-time. Currently, real-time sensor data and real-time hydraulic modelling are not used much in a water utility's control room, especially when it comes to identifying a suitable strategy to respond to failure events in near real-time.
This presentation provides an overview of a new response methodology to support decisions made by control room operators when dealing with various failure events in a water distribution system. This methodology was developed and validated in the context of a PhD project, in University of Exeter. An integral part of this work was to develop an interactive decision-support tool, which guides/supports operators in identifying an effective response solution in near real-time (i.e. usually required up to 1 hour after the event detection/localisation). The proposed response methodology considers: (i) structured yet flexible approach supporting and guiding the operator throughout the entire response process to water network failure events, whilst allowing the operator to have a final say; (ii) novel interaction with the operator in near real-time via the proposed tool (e.g. allowing operators to propose different 'what-if' scenarios without being hydraulic experts); (iii) provision of automatically generated advices (e.g. near optimal response solutions via a novel heuristic algorithm and assessed end-impacts); and (iv) improved impact assessment. An integral part of the new response methodology is the development of a new method to identify near optimal response to failures in water distribution networks. The new response methodology was tested, validated and demonstrated on a semi-real case study. The implementation of the new response methodology via the tool enabled operators to identify a response solution better (i.e. with lower end-impact and cost) than the solution based on the current response practice of utilities. The results obtained from this case study, demonstrate that the new response methodology works well and that it has a potential to improve water utilities' current practice. The new heuristic optimisation method was validated and demonstrated on two semi-real case studies. Based on the results obtained it can be concluded that the new heuristic-based method works well (i.e. it is reliable and robust) and is able to identify near optimal response solutions in a computationally fast manner (i.e. in near real-time). This, in turn, enables this method to be used in near real-time in real-life situations.
About Eirini Nikoloudi Eirini Nikoloudi is a Civil Engineer holding a MEng in Civil Engineering from National Technical University of Athens (NTUA) in 2015. In January 2021 she successfully defended her PhD thesis entitled "Event Management and Event Response Planning for Smart Water Networks". This PhD work, completed in University of Exeter, developed new methodology for dealing with pipe bursts, equipment failures and other similar events in a water distribution system in near real-time. Her research interests include finding ways to use the water distribution system in a smarter and more sustainable way.
---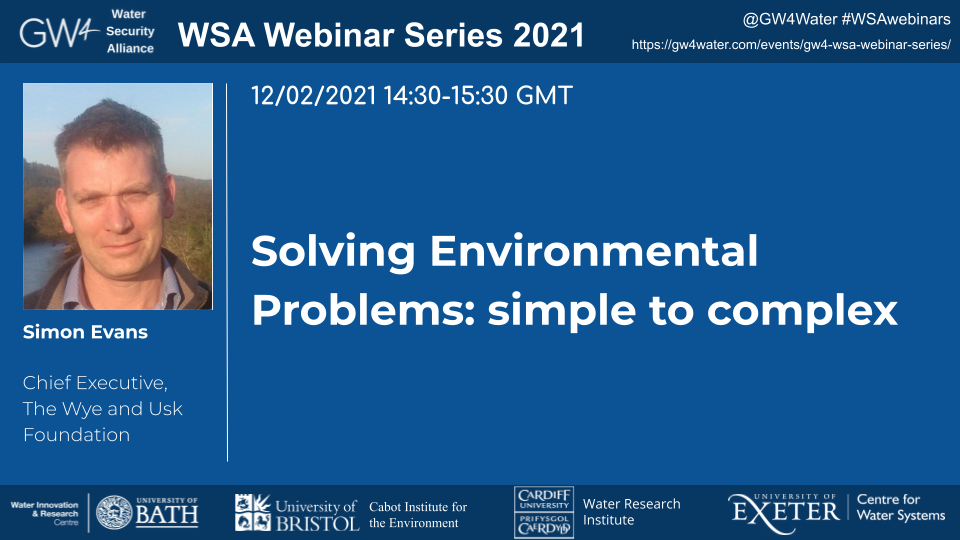 simon Evans
Chief Executive, The Wye and Usk Foundation 12th February 2021 14:30-15:30
Title
Solving Environmental Problems: simple to complex
About Simon Evans
Simon is an environmental scientist who joined The Wye and Usk Foundation from the Westcountry Rivers Trust, in 2004. He has been involved with all aspects of WAU's work over the years – from liming headwaters to project management, building project bids and the day-to-day of running the Foundation. An avid fisherman, his passion is improving rivers and how our soils are managed.
---
DR IFAN JÂMS
Research Associate, Water Research Institute, Cardiff University. 5th February 2021 14:30-15:30
Title Estimating the size distribution of plastics ingested by animals
Abstract
The ingestion of plastics appears to be widespread throughout the animal kingdom with risks to individuals, ecosystems and human health. Despite growing information on the location, abundance and size distribution of plastics in the environment, it cannot be assumed that any given animal will ingest all sizes of plastic encountered. Here, we use published data to develop an allometric relationship between plastic consumption and animal size to estimate the size distribution of plastics feasibly ingested by animals. Based on more than 2000 gut content analyses from animals ranging over three orders of magnitude in size (lengths 9 mm to 10 m), body length alone accounts for 42% of the variance in the length of plastic an animal may ingest and indicates a size ratio of roughly 20:1 between animal body length and the largest plastic the animal may ingest. We expect this work to improve global assessments of plastic pollution risk.
About Dr Ifan Jams
Ecologist Principally concerned with advancing ecology into a predictive discipline. Ecolegydd Yn gweithio er datblygiad ecoleg i ddisgyblaeth rhagfynegol.
---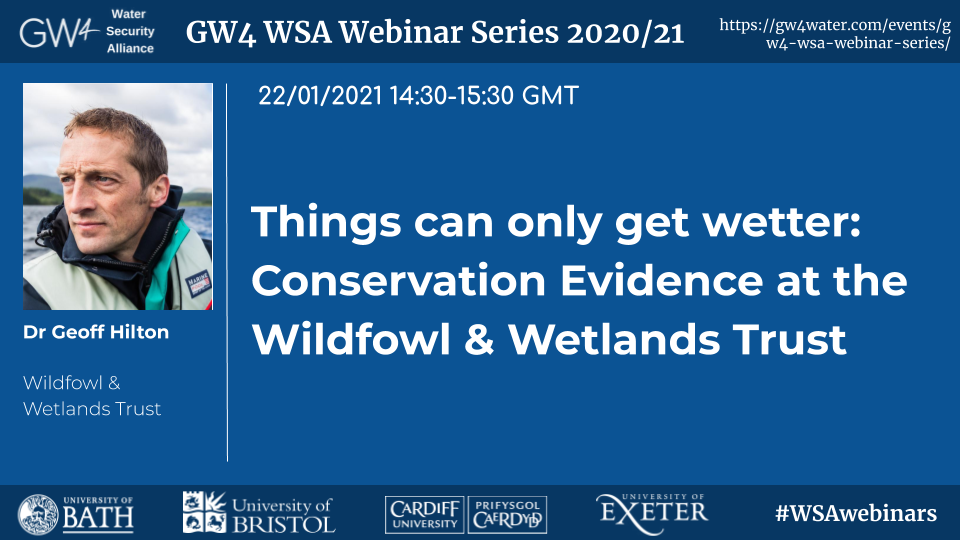 Dr geoff Hilton
Head of Conservation Evidence, Wildfowl & Wetlands Trust 22nd January 2021 14:30-15:30
Title Things can only get wetter: conservation evidence at the Wildfowl & Wetlands Trust
Abstract The Wildfowl & Wetlands Trust is the UK's largest wetland charity. Our mission is to conserve, restore and create wetlands, save wetland wildlife, and inspire everyone to value the amazing things that healthy wetlands provide for people and nature. WWT headquarters is at Slimbridge in Gloucestershire, but we work throughout the UK and globally. Here we will talk about the Trust's plans for a UK Blue Recovery as we emerge from the pandemic and for wetlands to take centre stage in global conservation as we move towards the climate and CBD CoPs in 2021. We will explain how our science team supports the WWT mission and give case-studies of our current research programmes.
About Dr Geoff Hilton An ornithologist by inclination and training, I first worked for WWT in the early 1990s before completing a PhD at Glasgow University. After a brief stay in academia I spent 10 years in the international research team at RSPB. In the 10 years since I returned to WWT I have focused on building a multidisciplinary conservation science team. I live in God's Own County (aka Gloucestershire) where I mostly act as chauffeur for teenage children and disappointed follower of Gloucester Rugby.
---
Dr Lewis Elliott
Lecturer, University of Exeter 11th December 2020 14:30-15:30
Title
Insights into blue spaces and human wellbeing: Findings from the BlueHealth International Survey
Abstract
While there are many health risks, there is growing evidence that blue spaces (that is, natural environments prominently featuring water such as coasts, lakes, and rivers) can promote good human health and wellbeing. However, this literature is often disparate, featuring a range of different health outcome measures, metrics of blue space "exposure", and is limited to studies conducted in individual countries like the UK and the Netherlands whose populations have very specific relationships with their e.g. coastline and canals, respectively. As part of the Horizon 2020 BlueHealth project, we conducted a standardised 18-country online survey to address many of these drawbacks. This seminar will guide you through a whistle-stop tour of findings from this survey so far and concern both 'blue' and 'green' spaces. Example results will look at how much time in nature in optimal for mental health gains, how people with common mental health disorders experience natural environments, whether blue and green spaces are associated with reduced inequalities in health, and whether there are associations between exposures to blue and green spaces and addictive behaviours like smoking or alcoholism.
About Lewis Elliott
Lewis is a lecturer in environment and public health at the European Centre for Environment and Human Health, University of Exeter Medical School. After undertaking bachelor's and master's degrees in psychology, his PhD focused on how to change nature-based recreation behaviour, particularly for physically inactive populations. He then spent four years working on the Horizon 2020 BlueHealth project looking at the relationships between blue spaces in Europe and public health and wellbeing. His current research spans environmental and health psychology, and environmental epidemiology and is particularly concerned with residential access to, and recreational contact with, natural environments and their impacts on health and health inequalities. He maintains an active interest in cognitive and social psychological processes with regards to nature, biodiversity, and health, and also how nature is experienced by people with severe mental illness.
---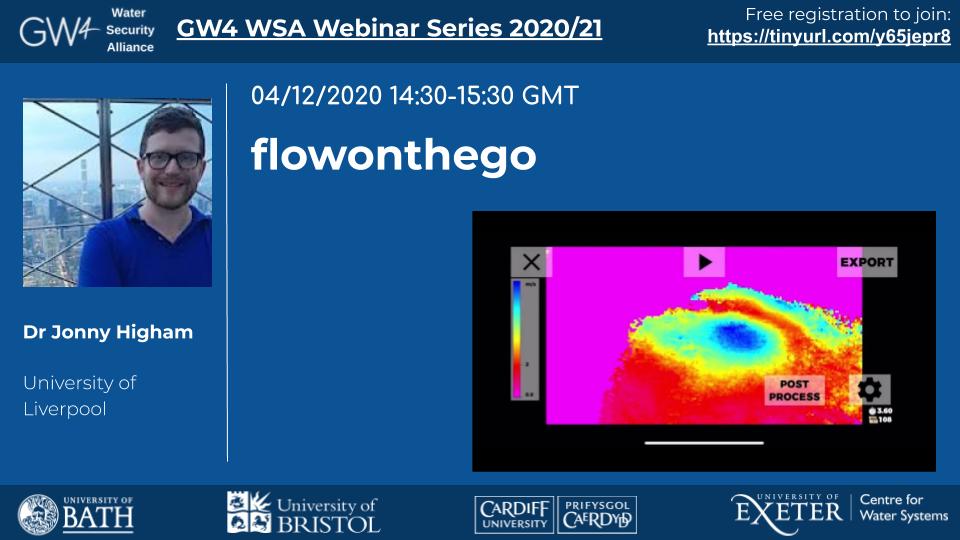 Dr Jonny Higham
Lecturer, University of Liverpool 4 December 2020 14:30-15:30
Title
flowonthego
Abstract
In this webinar, Jonny will present his research groups most recent project…flowonthego. flowonthego is a smart-phone app which uses solves the optical flow equations using the Lucas Kanade solutions. This means using a smartphone it is possible to capture videos of flows rivers/harbours/ports and determine how fast they are moving. At the end of the seminar, he'll even show you where you can your very own alpha copy of the app for your android / iOS device.
About Jonny Higham
Jonny is a lecturer in contemporary and dynamic processes in the department of Geography and Planning at the University of Liverpool. However, Jonny has a secret …he is not a geographer…he's actually an Engineer who's aiming to connect principles from applied mathematics and use them to describe nature around us.
---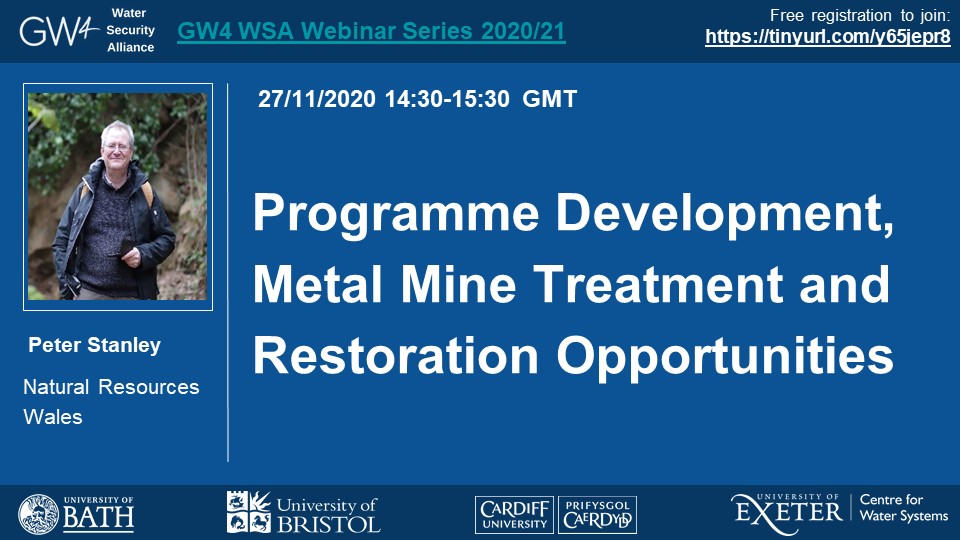 Peter Stanley
Natural Resources Wales 27 November 2020 14:30-15:30
Title
Programme development, metal mine treatment and restoration opportunities
Abstract
The presentation will take you on a short run through our assessment process, some of the mines where mine hazard or feasibility studies have been completed or where intervention measures are being pursued. These will include the Teifi Mines, Parys Mountain, Frongoch-Wemyss, Cwm Rheidol and the Gwydir Mines. Listen carefully for historical anecdotes to Lord Rhys at Abbey Consols, the startling discovery at Glasdir leading to flotation that revolutionised the mining industry, how we wish to develop treatment RD&I, restore our rivers health, embed public goods and deliver community benefits.
About Peter Stanley
Peter has worked in environmental compliance, land quality, landfill gas assessments, remediation and landfill engineering, receiving his CGeol last century. Peter acts as a Scrutineer for applicants progressing through Chartership with the Geological Society. He's led a team of pollution control officers at Cardiff City Council and returned to NRW (as a predecessor body) in 2010. He successfully steered the remediation at Brofiscin Quarry, regulated several landfill engineering projects and has developed a Programme of Metal Mine remediation and R&D projects. Peter acts as the Portfolio Manager on the Metal (Non-Coal) Mine Programme for Geoscience NRW.
---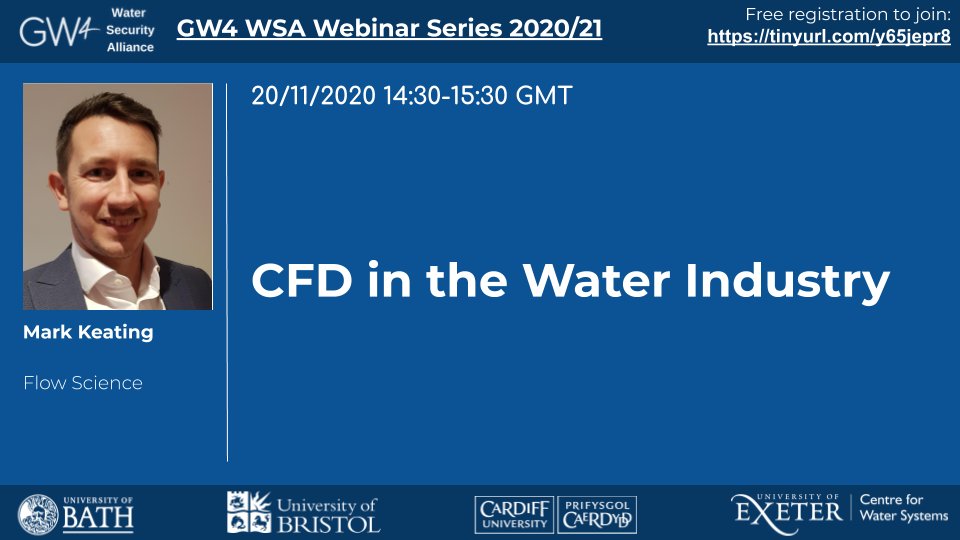 Mark Keating
Director, Flow Science 20 November 2020 14:30-15:30
Title
CFD in the Water Industry
Abstract
The talk will give an overview of what Computational Fluid Dynamics (CFD) and how it is used in applications in the water industry. It will cover an introduction to FLOW-3D HYDRO (
https://www.flow3d.com/products/flow-3d-hydro/
), the dedicated CFD tool for the water & environmental industry and a number of real world cases will be shown followed by an overview of where these tools are going in the future. I will also explain our academic rollout and provide the opportunity to discuss how FLOW-3D HYDRO can be used in academic project work & teaching.
About Mark Keating
Mark Keating is the MD of Flow Science UK which is owned by Flow Science Inc, developers of the commercial CFD software suite of FLOW-3D products for the last 40 years. A post graduate, chartered engineer of 20 years, Mark has been involved in CFD tools engineering simulation since his first degree in 1993. Since that time, Mark has held technical, commercial and management roles revolving around CFD such as technical support, product development, pre-sales & account manager (sales), having worked primarily for major commercial simulation software vendors. He has been (and remains) involved in many aspects of CFD such as training, support, services, promotion & deployment and has been exposed to the use of CFD across a broad range of applications and industries. Mark sits on the NAFEMS UK steering committee and is an enthusiastic advocate of the adoption of simulation technologies.
---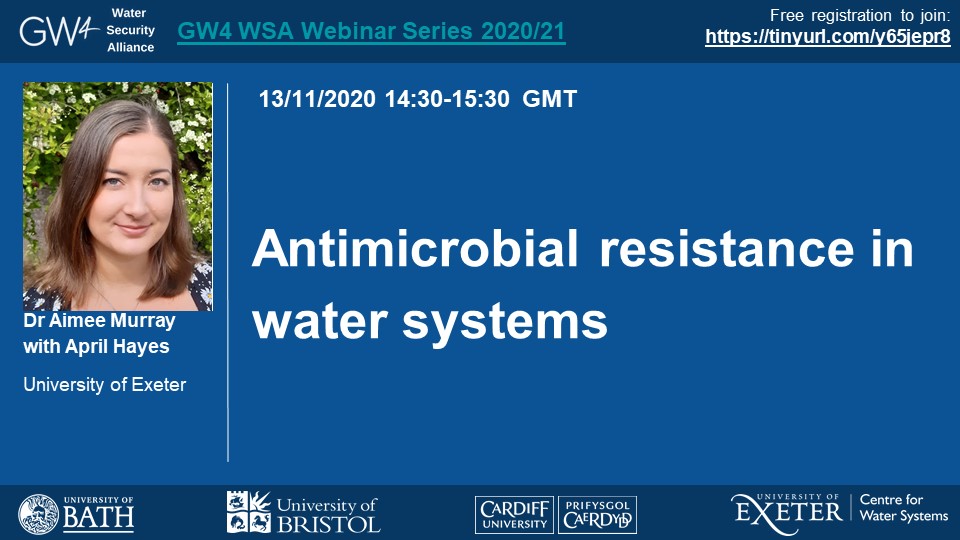 Dr aimee murray, with april hayes
University of Exeter Medical School 13 November 2020 14:30-15:30
Title
Antimicrobial resistance in water systems
Abstract
Antimicrobial resistance (AMR) is one of the greatest threats facing modern society. Natural environments are increasingly recognised as playing an important role in AMR, but also a comparatively understudied potential mechanism to mitigate it. How antibiotics and other compounds that may increase AMR enter the aquatic environment will be outlined, followed by a discussion of the current environmental risk assessment of antibiotics landscape from an AMR standpoint. Current and possible future research avenues will be introduced.
About Dr Aimee Murray
Aimee Murray is a NERC Industrial Innovation Fellow and proleptic lecturer at the University of Exeter Medical School, European Centre for Environment and Human Health, and the Environment & Sustainability Institute. her research focusses on the evolution and ecology of antimicrobial resistance and environmental risk assessment of resistance in wastewater and receiving environments.
---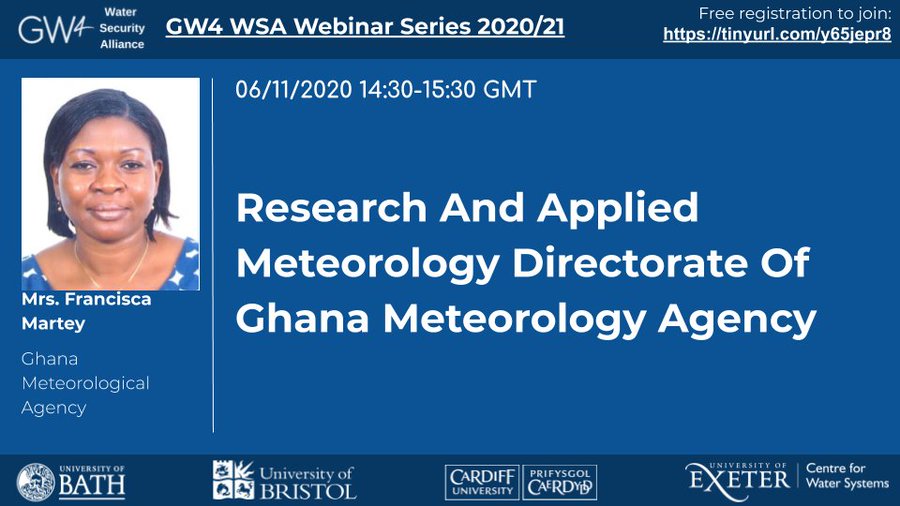 mrs francisca Martey
Head of Research and Applied Meteorology, Ghana Meteorological Agency 06 November 2020 14:30-15:30
Title
Research and applied meteorology directorate of Ghana
Meteorology Agency
About Mrs Francisca
Martey
My name is Francisca Martey. I am currently the head of Research and Applied Meteorology of the Ghana Meteorological Organization. Research and Applied Meteorology consist of Agro-Meteorology, Hydro-Meteorology and Climate Meteorology departments. I involve myself in the day to day running of my department which include the seven day, monthly, and seasonal forecasts for the country; as well as the Climate, Agriculture and Hydro Bulletins, and the Flood and Drought forecasts and bulletins, among others.
---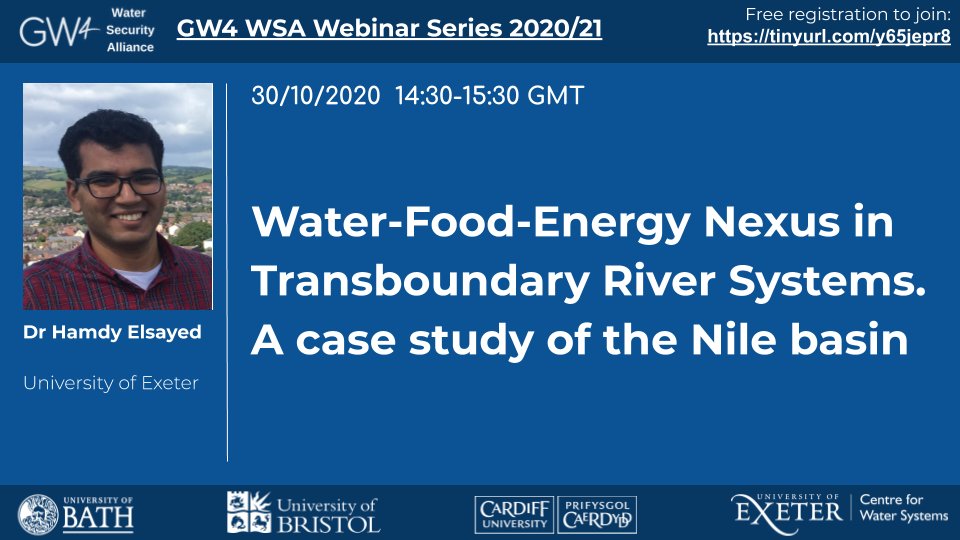 Dr Hamdy Elsayed
PhD, University of Exeter 30 October 2020 14:30-15:30
Title
Water-Food-Energy Nexus in Transboundary River Systems: A case study of the Nile basin
Abstract
The Nile River basin is a transboundary river basin in East Africa shared by 11 countries and home for about 250 million people. The basin is currently experiencing rapid population and economic growth. Consequently, the Nile countries have devised ambitious master plans to tap the Nile resources potential to meet the growing water, food and energy demands of their populations and sustain their expanding economies. The – near completion – Grand Ethiopian Renaissance Dam (GERD) is the largest development in the basin and has the potential to deliver regional economic benefits and improve regional cooperation. However, it also has raised regional tensions – between Egypt, Ethiopia and Sudan – which have gained international attention and could hinder the livelihoods in downstream countries. Yet, there is no unified agreement on filling and operation of the reservoir. The Nile is also vulnerable to climate change that is likely to add further uncertainties to the hydrologic river regime. To this end, the talk will highlight the opportunities, challenges in the Nile region as well as the modelling methodology and key results from my PhD research at the Centre for Water Systems.
About Dr Hamdy Elsayed
Hamdy Elsayed holds a PhD in Engineering from the Centre for Water Systems, University of Exeter. He is also a Teaching Assistant at Menoufia University (MU), Egypt. Hamdy is an Open Access Ambassador at International Water Association (IWA). His current research focuses on interdisciplinary research in water science and engineering. He is particularly interested in water-food-energy nexus, water resources management, transboundary water management as well as developing and applying systems-based approaches to better understand and improve cross-sectoral and cross-regional system(s) management. While in Exeter, Hamdy developed an integrated novel framework that considers the key water-food-energy nexus interlinkages in river basins together with other important issues such as population growth and climate change and applied to the Nile river basin as a case study.
---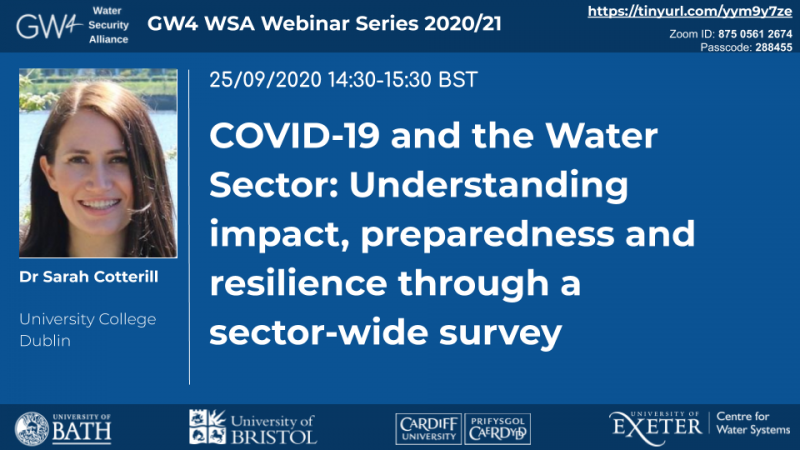 Dr Sarah Cotterill
Assistant Professor, University College Dublin 16 October 2020 14:30-15:30
Title
COVID-19 and the Water Sector: Understanding impact, preparedness and resilience through a sector-wide survey
Abstract
The COVID-19 pandemic involved unprecedented measures, drastically altering the way we live and work. To understand the impact of the pandemic on the water sector, a questionnaire was co-designed by the Chartered Institution of Water and Environmental Management, a research team and a panel of industry experts. Almost 80% of water sector employees were able to continue their usual role, suggesting high levels of resilience, borne out of good incident management procedures. However, more than a third reported changes in customer behaviour, such as impacts on the supply chain and capital programmes, and changes to water demand patterns. In this presentation, I will outline technical challenges identified in the survey – including a delayed daily peak demand, and weekday consumption habits matching traditional weekend patterns – and discuss longer term opportunities and challenges associated with these changes. Furthermore, responses to the survey implied a potential cost burden could arise for water companies, due to increased treatment costs, from a changing wastewater load; decreased revenue, with water consumption shifting from metered to unmetered buildings; and the financial implications on customers, affecting their ability to pay their bills.
About Dr Sarah Cotterill
Dr Sarah Cotterill is an Assistant Professor in the School of Civil Engineering at University College Dublin. She received an Engineering Doctorate (EngD) from Newcastle University, through the STREAM industrial doctorate centre, for her research on Bioelectrochemical Systems (BES). She is part of the Centre for Water Resources Research (CWRR) at UCD, where her research interests focus on recovering energy and useful products from waste, and using water resources more efficiently. Previously, she has worked for a start-up business, founded by a University of Exeter Alum, to develop and install internet of things-enabled rainwater management systems; received a Fulbright Scholar award for research into membrane bioreactors at The Pennsylvania State University, USA; and been part of a European Regional Development Funded project 'The Water Hub' at Durham University. In 2019, she was awarded Future Water Association's 'Emerging Talent' Award, sponsored by ARUP.
---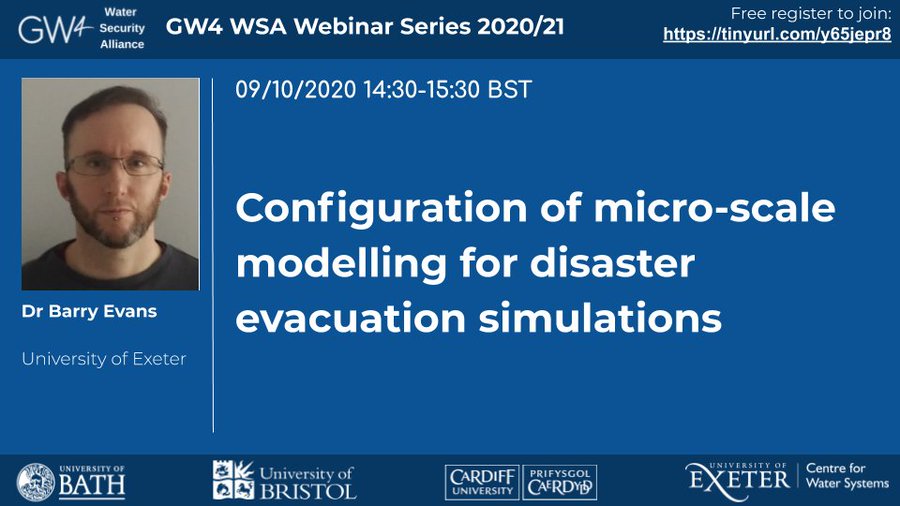 Dr Barry Evans
Research Fellow, University of Exeter 09 October 2020 14:30-15:30
Title Configuration of micro-scale modelling for disaster evacuation simulations
Abstract Following a Tsunami warning alert the population of residents lying within high risk regions have limited time reach safe distance. Depending upon their individual responses some residents will seek to evacuate via foot and some via vehicles, however the latter could be problematic due to the volume of traffic looking to simultaneously evacuate a region resulting in gridlock scenarios and potentially endangering more lives. This research looks to examine the evacuation of residents within a city known to be of potential risk to Tsunami events and develop a micro-scale model simulating the movements of residents either by foot, by car or a combination of them both. This presentation highlights some of the early work being undertaken in the development of a micro-scale model and the challenges and applied solutions used to overcome some of the limitations relating data availability.
About Dr Barry Evans Dr Barry Evans is a Research Fellow at the University of Exeter in the Centre for Water Systems. His research interests lie within the fields of Catastrophe Modelling, Urban Resilience and System Dynamic Modelling. Barry has been working with the University of Exeter since 2006 on various international research projects and has recently returned from Massey University in New Zealand where he was working in field of Urban Resilience for the School of Built Environment.
---
Mr Murray Dale
Technical Director, JBA Consulting 2 October 2020 14.30 -15.30
Title Recent water, climate and hydrometeorology projects at JBA
Abstract This talk will use recent project case studies to illustrate work in the fields of hydrometeorology and climate resilience, including surface water flood forecasting and high resolution climate modelling for the UK water industry
About Murray Dale Murray is a Technical Director at JBA Consulting with 26 years' industry experience. A Chartered Meteorologist, he has extensive experience in hydrometeorology, flood forecasting, climate resilience and other water-related projects for a wide range of UK and international clients. He has led a wide range of national and international studies in flood forecasting, warning and hydrometeorology. He is a member of the UKCP18 (UK Climate Projections 2018) Non-Government User Group and has led climate change impacts and resilience projects since 1999, most recently for WMO, World Bank, Network Rail and UKWIR (UK Water Industry Research). With strong links to the Met Office, where he was Hydrology Team leader from 2003-5, he was instrumental in the development of the Extreme Rainfall Alert (ERA) service and the subsequent, operational service the Flood Forecasting Centre (FFC) uses for surface water flood risk alerting: the decision support tool. He has developed and led comprehensive training programmes for the FFC from 2009 to 2016, providing training to all the FFC's Operational Hydrometeorologists and for staff from the EA, SEPA and NRW. He has international experience in India, Moldova, Algeria, Uganda and Tanzania and has worked on projects in New Zealand and the USA. An experienced presenter and former Chair of BHS South West Section, he has spoken at >40 national and international conferences and authored >20 journal papers and conference proceedings.