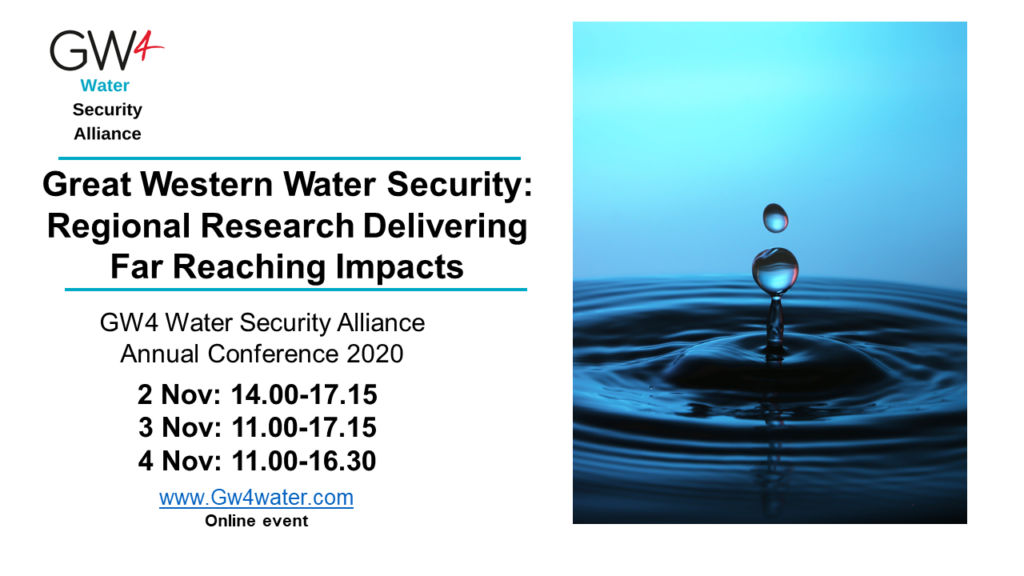 2-4 November

Online event
---
---
Every year, the GW4 Water Security Alliance brings stakeholders and academics together during a one-day conference to discuss water research challenges. Our 2019 event gathered over 120 attendees, with keynote speakers from UNESCO and the Environment Agency. A summary of the event can be found here.

This year's conference will provide attendees with opportunities to learn about the breadth of research taking place across the GW4, share water-related research experiences with academics and stakeholders, as well as helping to inspire and support the next generation of water researchers.

Due to the ongoing Covid-19 pandemic, this year our annual conference will be held online over three afternoons. This format recognises the new working arrangements that are operating across both the university and business environment. This will also enable our friends from Global Water Futures in Canada to be able to attend.

A mix of informative webinars and interactive workshops will be delivered, enabling attendees to reconnect with colleagues from across the GW4, to forge new collaborative relationships and to learn from the growing community of PhD students working across our alliance.

Please note that space at some of the workshops is limited. The link above will enable you to register for these sessions if spaces are available.

Please register now to attend.
Confirmed speakers:

Mon 2nd:
Prof Isabelle Durance, Water Security Alliance, University of Cardiff
Prof Jonathan Knight, Pro-Vice-Chancellor for Research, University of Bath
Dr Kala Vairavamoorthy, Executive Director, International Water Association
Dr John Pomeroy, Global Water Futures, University of Saskatchewan
Katie Alcott, Founder & CEO, FRANK Water
Prof Charles Tyler, University of Exeter
Dr Kelly Thornber, University of Exeter
Prof Andrew Johnson, UK Centre for Ecology & Hydrology
Fiona Joyce, University of Cardiff
Tue 3rd:
Prof Thorsten Wagener, University of Bristol
Dr Liz Holcombe, University of Bristol
Stephanie Müller, WISE CDT, University of Cardiff
Dr Lee Bryant, University of Bath
Wed 4th:
Steve Kaye, Chief Executive, UK Water Industry Research
Prof Jan Hofman, University of Bath
Dr Philippe Blondel, University of Bath
Rob Lamb, Director, JBA Trust
Dr Michael Singer, Cardiff University
Prof Dragan Savic, CEO, KWR
Confirmed flash talk presenters (Wednesday, 4th November):

Andrew Barnes, University of Bath
Hebe Charmichael, University of Exeter
Toby Champneys, University of Bristol
Inge Elfferich, University of Cardiff
Daisy Harley-Niang, University of Exeter
April Hayes, University of Exeter
Tomo Homan, University of Exeter
Victoria Hussey, University of Bristol
Luke Lear, University of Exeter
Mikkel Lykkegaard, University of Exeter
James Rand, University of Bath
Claire Robertson, UK Centre for Ecology & Hydrology
We're looking forward to seeing you in November!