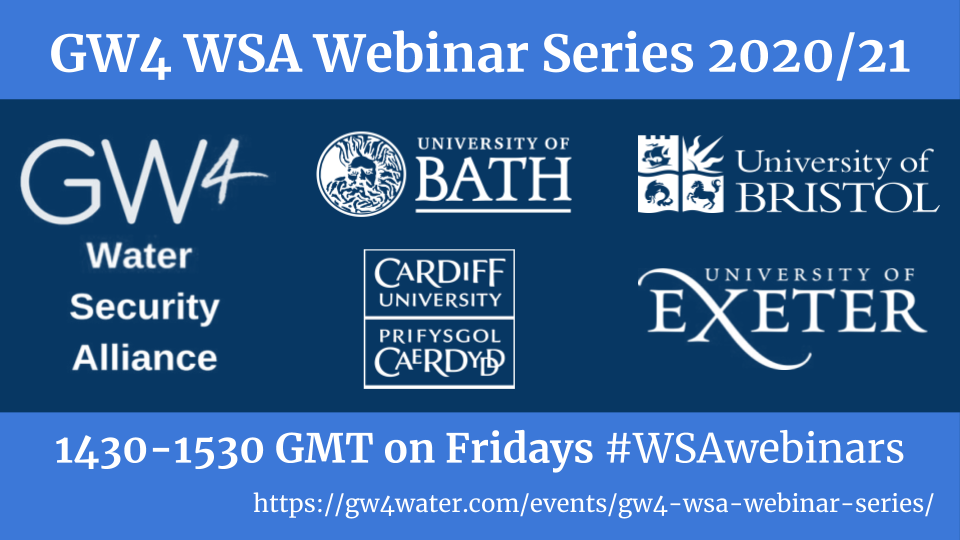 The GW4 WSA will be running a weekly webinar series for the academic year 2020-2021.

The series features a guest speaker each week and is aimed at stimulating discussion and knowledge exchange between academics, researchers, water professionals and students.

The series runs every Friday, from 14:30-15:30, and is held on Zoom.
In order to attend please register here.
To keep up to date with the series' schedule, please check this page, which will be updated regularly with details of upcoming events, as well as information about previous events. Alternatively, you can click this link to send an email to Professor Albert Chen at the University of Exeter, asking to be included on the series' mailing list.

If you have any issues accessing the Zoom platform, please get in touch using the button below.
---
Upcoming webinars
---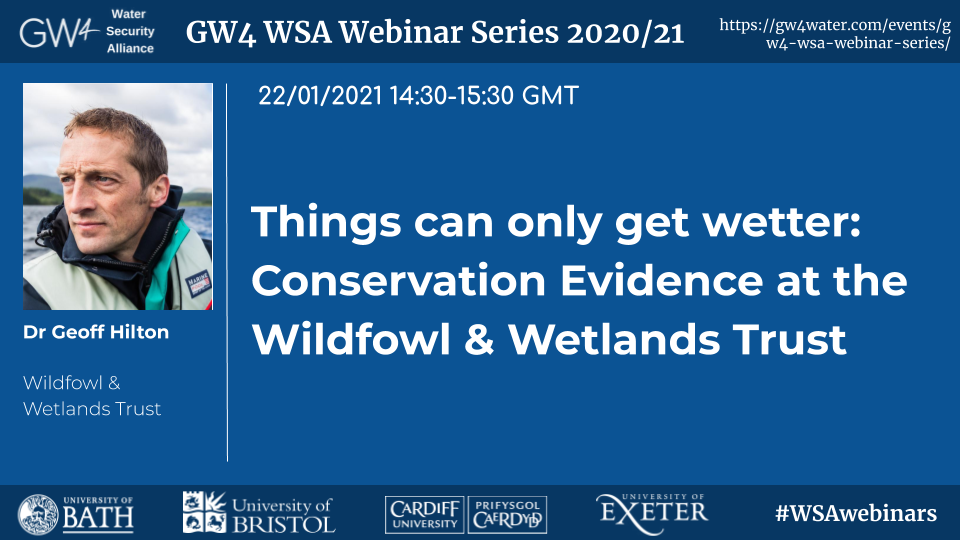 Dr geoff Hilton
Head of Conservation Evidence, Wildfowl & Wetlands Trust
22nd January 2021
14:30-15:30

Title
Things can only get wetter: conservation evidence at the Wildfowl & Wetlands Trust
Abstract
The Wildfowl & Wetlands Trust is the UK's largest wetland charity. Our mission is to conserve, restore and create wetlands, save wetland wildlife, and inspire everyone to value the amazing things that healthy wetlands provide for people and nature. WWT headquarters is at Slimbridge in Gloucestershire, but we work throughout the UK and globally. Here we will talk about the Trust's plans for a UK Blue Recovery as we emerge from the pandemic and for wetlands to take centre stage in global conservation as we move towards the climate and CBD CoPs in 2021. We will explain how our science team supports the WWT mission and give case-studies of our current research programmes.
About Dr Geoff Hilton
An ornithologist by inclination and training, I first worked for WWT in the early 1990s before completing a PhD at Glasgow University. After a brief stay in academia I spent 10 years in the international research team at RSPB. In the 10 years since I returned to WWT I have focused on building a multidisciplinary conservation science team. I live in God's Own County (aka Gloucestershire) where I mostly act as chauffeur for teenage children and disappointed follower of Gloucester Rugby.
---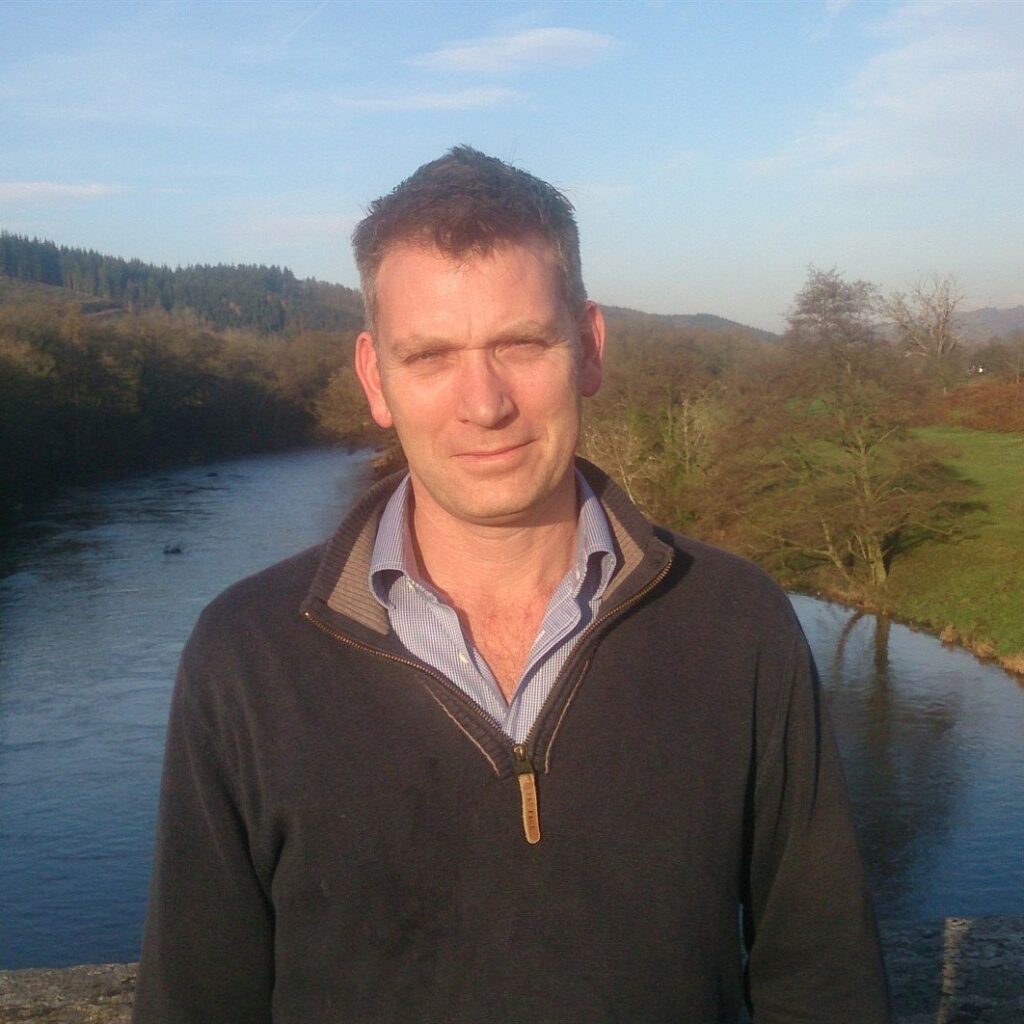 simon Evans
Chief Executive, The Wye and Usk Foundation
12th February 2021
14:30-15:30
Simon is an environmental scientist who joined The Wye and Usk Foundation from the Westcountry Rivers Trust, in 2004. He has been involved with all aspects of WAU's work over the years – from liming headwaters to project management, building project bids and the day-to-day of running the Foundation. An avid fisherman, his passion is improving rivers and how our soils are managed.
More information on this Webinar to follow.

---
PREVIOUS WEBINARS
---
Dr Lewis Elliott
Lecturer, University of Exeter
11th December 2020
14:30-15:30

Title
Insights into blue spaces and human wellbeing: Findings from the BlueHealth International Survey
Abstract
While there are many health risks, there is growing evidence that blue spaces (that is, natural environments prominently featuring water such as coasts, lakes, and rivers) can promote good human health and wellbeing. However, this literature is often disparate, featuring a range of different health outcome measures, metrics of blue space "exposure", and is limited to studies conducted in individual countries like the UK and the Netherlands whose populations have very specific relationships with their e.g. coastline and canals, respectively. As part of the Horizon 2020 BlueHealth project, we conducted a standardised 18-country online survey to address many of these drawbacks. This seminar will guide you through a whistle-stop tour of findings from this survey so far and concern both 'blue' and 'green' spaces. Example results will look at how much time in nature in optimal for mental health gains, how people with common mental health disorders experience natural environments, whether blue and green spaces are associated with reduced inequalities in health, and whether there are associations between exposures to blue and green spaces and addictive behaviours like smoking or alcoholism.
About Lewis Elliott
Lewis is a lecturer in environment and public health at the European Centre for Environment and Human Health, University of Exeter Medical School. After undertaking bachelor's and master's degrees in psychology, his PhD focused on how to change nature-based recreation behaviour, particularly for physically inactive populations. He then spent four years working on the Horizon 2020 BlueHealth project looking at the relationships between blue spaces in Europe and public health and wellbeing. His current research spans environmental and health psychology, and environmental epidemiology and is particularly concerned with residential access to, and recreational contact with, natural environments and their impacts on health and health inequalities. He maintains an active interest in cognitive and social psychological processes with regards to nature, biodiversity, and health, and also how nature is experienced by people with severe mental illness.
---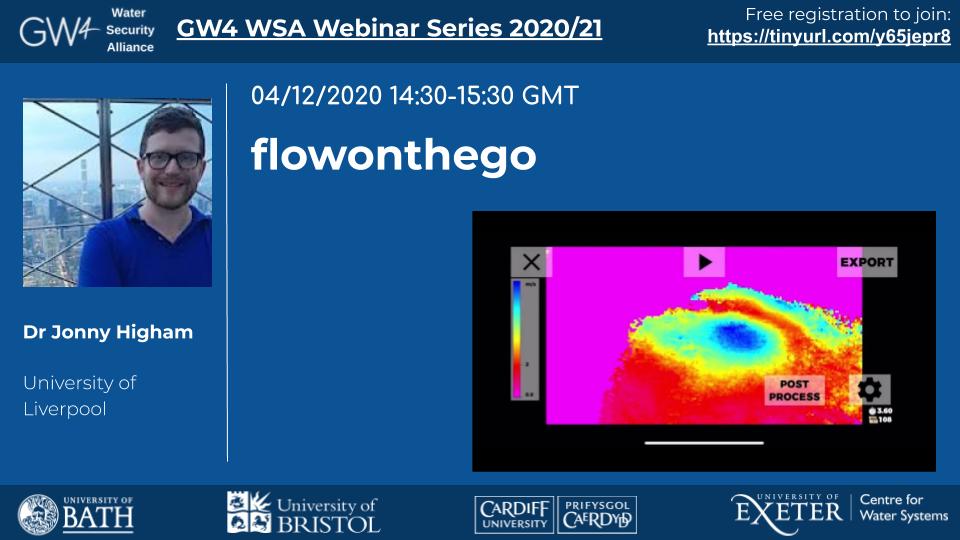 Dr Jonny Higham
Lecturer, University of Liverpool
4 December 2020
14:30-15:30

Title
flowonthego
Abstract
In this webinar, Jonny will present his research groups most recent project…flowonthego. flowonthego is a smart-phone app which uses solves the optical flow equations using the Lucas Kanade solutions. This means using a smartphone it is possible to capture videos of flows rivers/harbours/ports and determine how fast they are moving. At the end of the seminar, he'll even show you where you can your very own alpha copy of the app for your android / iOS device.
About Jonny Higham
Jonny is a lecturer in contemporary and dynamic processes in the department of Geography and Planning at the University of Liverpool. However, Jonny has a secret …he is not a geographer…he's actually an Engineer who's aiming to connect principles from applied mathematics and use them to describe nature around us.
---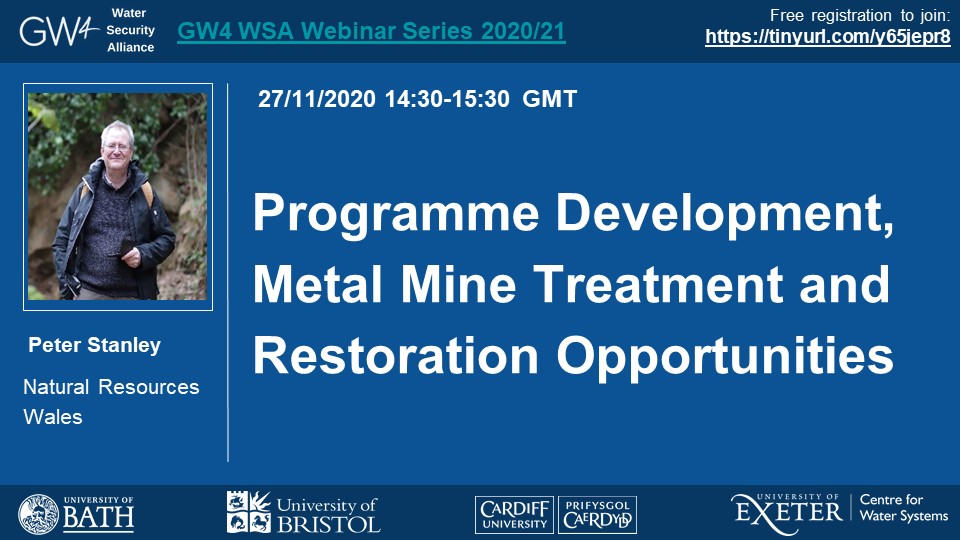 Peter Stanley
Natural Resources Wales
27 November 2020
14:30-15:30

Title
Programme development, metal mine treatment and restoration opportunities
Abstract
The presentation will take you on a short run through our assessment process, some of the mines where mine hazard or feasibility studies have been completed or where intervention measures are being pursued. These will include the Teifi Mines, Parys Mountain, Frongoch-Wemyss, Cwm Rheidol and the Gwydir Mines. Listen carefully for historical anecdotes to Lord Rhys at Abbey Consols, the startling discovery at Glasdir leading to flotation that revolutionised the mining industry, how we wish to develop treatment RD&I, restore our rivers health, embed public goods and deliver community benefits.
About Peter Stanley
Peter has worked in environmental compliance, land quality, landfill gas assessments, remediation and landfill engineering, receiving his CGeol last century. Peter acts as a Scrutineer for applicants progressing through Chartership with the Geological Society. He's led a team of pollution control officers at Cardiff City Council and returned to NRW (as a predecessor body) in 2010. He successfully steered the remediation at Brofiscin Quarry, regulated several landfill engineering projects and has developed a Programme of Metal Mine remediation and R&D projects. Peter acts as the Portfolio Manager on the Metal (Non-Coal) Mine Programme for Geoscience NRW.
---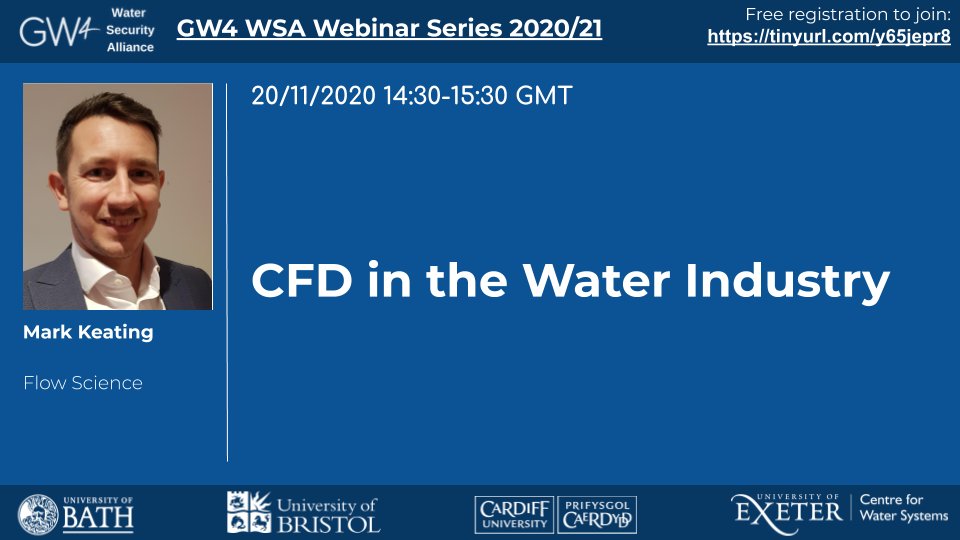 Mark Keating
Director, Flow Science
20 November 2020
14:30-15:30

Title
CFD in the Water Industry
Abstract
The talk will give an overview of what Computational Fluid Dynamics (CFD) and how it is used in applications in the water industry. It will cover an introduction to FLOW-3D HYDRO (https://www.flow3d.com/products/flow-3d-hydro/), the dedicated CFD tool for the water & environmental industry and a number of real world cases will be shown followed by an overview of where these tools are going in the future. I will also explain our academic rollout and provide the opportunity to discuss how FLOW-3D HYDRO can be used in academic project work & teaching.
About Mark Keeting
Mark Keating is the MD of Flow Science UK which is owned by Flow Science Inc, developers of the commercial CFD software suite of FLOW-3D products for the last 40 years. A post graduate, chartered engineer of 20 years, Mark has been involved in CFD tools engineering simulation since his first degree in 1993. Since that time, Mark has held technical, commercial and management roles revolving around CFD such as technical support, product development, pre-sales & account manager (sales), having worked primarily for major commercial simulation software vendors. He has been (and remains) involved in many aspects of CFD such as training, support, services, promotion & deployment and has been exposed to the use of CFD across a broad range of applications and industries. Mark sits on the NAFEMS UK steering committee and is an enthusiastic advocate of the adoption of simulation technologies.
---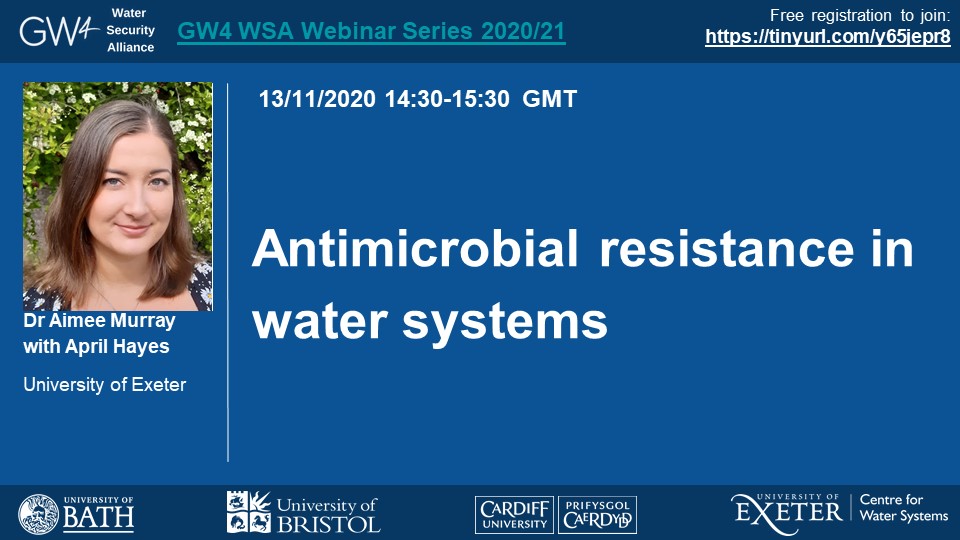 Dr aimee murray, with april hayes
University of Exeter Medical School
13 November 2020
14:30-15:30

Title
Antimicrobial resistance in water systems
Abstract
Antimicrobial resistance (AMR) is one of the greatest threats facing modern society. Natural environments are increasingly recognised as playing an important role in AMR, but also a comparatively understudied potential mechanism to mitigate it. How antibiotics and other compounds that may increase AMR enter the aquatic environment will be outlined, followed by a discussion of the current environmental risk assessment of antibiotics landscape from an AMR standpoint. Current and possible future research avenues will be introduced.
About Dr Aimee Murray
Aimee Murray is a NERC Industrial Innovation Fellow and proleptic lecturer at the University of Exeter Medical School, European Centre for Environment and Human Health, and the Environment & Sustainability Institute. her research focusses on the evolution and ecology of antimicrobial resistance and environmental risk assessment of resistance in wastewater and receiving environments.
---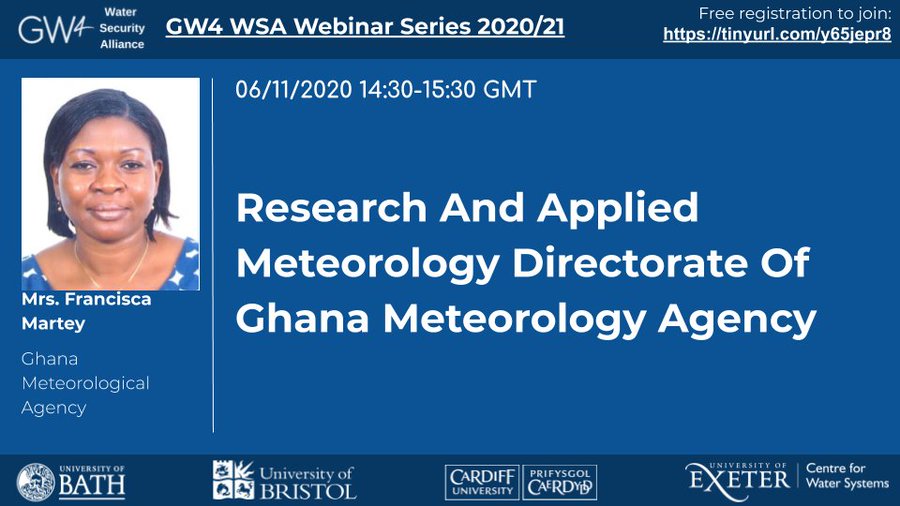 mrs francisca Martey
Head of Research and Applied Meteorology, Ghana Meteorological Agency
06 November 2020
14:30-15:30

Title
Research and applied meteorology directorate of Ghana Meteorology Agency
About Mrs Francisca Martey
My name is Francisca Martey. I am currently the head of Research and Applied Meteorology of the Ghana Meteorological Organization. Research and Applied Meteorology consist of Agro-Meteorology, Hydro-Meteorology and Climate Meteorology departments. I involve myself in the day to day running of my department which include the seven day, monthly, and seasonal forecasts for the country; as well as the Climate, Agriculture and Hydro Bulletins, and the Flood and Drought forecasts and bulletins, among others.
---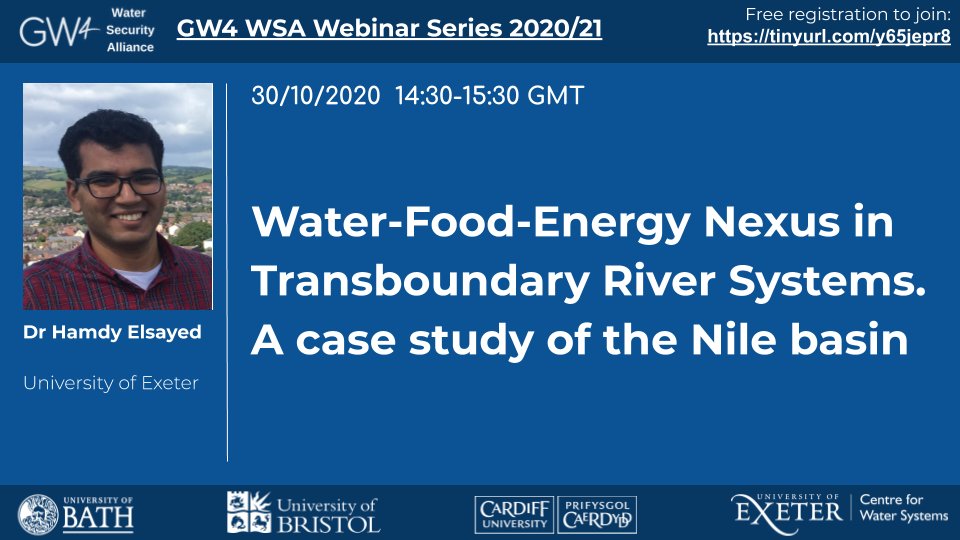 Dr Hamdy Elsayed
PhD, University of Exeter
30 October 2020
14:30-15:30

Title
Water-Food-Energy Nexus in Transboundary River Systems: A case study of the Nile basin
Abstract
The Nile River basin is a transboundary river basin in East Africa shared by 11 countries and home for about 250 million people. The basin is currently experiencing rapid population and economic growth. Consequently, the Nile countries have devised ambitious master plans to tap the Nile resources potential to meet the growing water, food and energy demands of their populations and sustain their expanding economies. The – near completion – Grand Ethiopian Renaissance Dam (GERD) is the largest development in the basin and has the potential to deliver regional economic benefits and improve regional cooperation. However, it also has raised regional tensions – between Egypt, Ethiopia and Sudan – which have gained international attention and could hinder the livelihoods in downstream countries. Yet, there is no unified agreement on filling and operation of the reservoir. The Nile is also vulnerable to climate change that is likely to add further uncertainties to the hydrologic river regime. To this end, the talk will highlight the opportunities, challenges in the Nile region as well as the modelling methodology and key results from my PhD research at the Centre for Water Systems.
About Dr Hamdy Elsayed
Hamdy Elsayed holds a PhD in Engineering from the Centre for Water Systems, University of Exeter. He is also a Teaching Assistant at Menoufia University (MU), Egypt. Hamdy is an Open Access Ambassador at International Water Association (IWA). His current research focuses on interdisciplinary research in water science and engineering. He is particularly interested in water-food-energy nexus, water resources management, transboundary water management as well as developing and applying systems-based approaches to better understand and improve cross-sectoral and cross-regional system(s) management. While in Exeter, Hamdy developed an integrated novel framework that considers the key water-food-energy nexus interlinkages in river basins together with other important issues such as population growth and climate change and applied to the Nile river basin as a case study.
---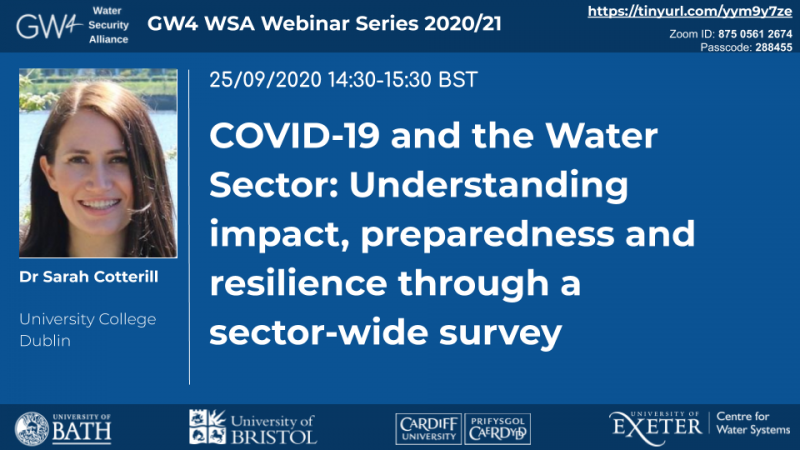 Dr Sarah Cotterill
Assistant Professor, University College Dublin
16 October 2020
14:30-15:30

Title
COVID-19 and the Water Sector: Understanding impact, preparedness and resilience through a rector-wide survey
Abstract
The COVID-19 pandemic involved unprecedented measures, drastically altering the way we live and work. To understand the impact of the pandemic on the water sector, a questionnaire was co-designed by the Chartered Institution of Water and Environmental Management, a research team and a panel of industry experts. Almost 80% of water sector employees were able to continue their usual role, suggesting high levels of resilience, borne out of good incident management procedures. However, more than a third reported changes in customer behaviour, such as impacts on the supply chain and capital programmes, and changes to water demand patterns.

In this presentation, I will outline technical challenges identified in the survey – including a delayed daily peak demand, and weekday consumption habits matching traditional weekend patterns – and discuss longer term opportunities and challenges associated with these changes. Furthermore, responses to the survey implied a potential cost burden could arise for water companies, due to increased treatment costs, from a changing wastewater load; decreased revenue, with water consumption shifting from metered to unmetered buildings; and the financial implications on customers, affecting their ability to pay their bills.
About Dr Sarah Cotterill
Dr Sarah Cotterill is an Assistant Professor in the School of Civil Engineering at University College Dublin. She received an Engineering Doctorate (EngD) from Newcastle University, through the STREAM industrial doctorate centre, for her research on Bioelectrochemical Systems (BES). She is part of the Centre for Water Resources Research (CWRR) at UCD, where her research interests focus on recovering energy and useful products from waste, and using water resources more efficiently.

Previously, she has worked for a start-up business, founded by a University of Exeter Alum, to develop and install internet of things-enabled rainwater management systems; received a Fulbright Scholar award for research into membrane bioreactors at The Pennsylvania State University, USA; and been part of a European Regional Development Funded project 'The Water Hub' at Durham University. In 2019, she was awarded Future Water Association's 'Emerging Talent' Award, sponsored by ARUP.
---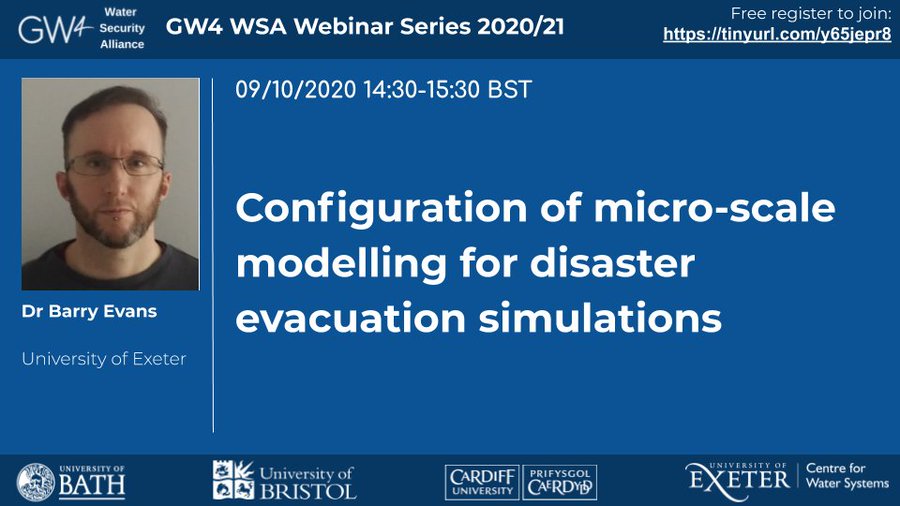 Dr Barry Evans
Research Fellow, University of Exeter
09 October 2020
14:30-15:30
Title
Configuration of micro-scale modelling for disaster evacuation simulations
Abstract
Following a Tsunami warning alert the population of residents lying within high risk regions have limited time reach safe distance. Depending upon their individual responses some residents will seek to evacuate via foot and some via vehicles, however the latter could be problematic due to the volume of traffic looking to simultaneously evacuate a region resulting in gridlock scenarios and potentially endangering more lives.

This research looks to examine the evacuation of residents within a city known to be of potential risk to Tsunami events and develop a micro-scale model simulating the movements of residents either by foot, by car or a combination of them both.

This presentation highlights some of the early work being undertaken in the development of a micro-scale model and the challenges and applied solutions used to overcome some of the limitations relating data availability.
About Dr Barry Evans
Dr Barry Evans is a Research Fellow at the University of Exeter in the Centre for Water Systems. His research interests lie within the fields of Catastrophe Modelling, Urban Resilience and System Dynamic Modelling. Barry has been working with the University of Exeter since 2006 on various international research projects and has recently returned from Massey University in New Zealand where he was working in field of Urban Resilience for the School of Built Environment.
---
Mr Murray Dale
Technical Director, JBA Consulting
2 October 2020
14.30 -15.30
Title
Recent water, climate and hydrometeorology projects at JBA
Abstract
This talk will use recent project case studies to illustrate work in the fields of hydrometeorology and climate resilience, including surface water flood forecasting and high resolution climate modelling for the UK water industry

About Murray Dale
Murray is a Technical Director at JBA Consulting with 26 years' industry experience. A Chartered Meteorologist, he has extensive experience in hydrometeorology, flood forecasting, climate resilience and other water-related projects for a wide range of UK and international clients. He has led a wide range of national and international studies in flood forecasting, warning and hydrometeorology. He is a member of the UKCP18 (UK Climate Projections 2018) Non-Government User Group and has led climate change impacts and resilience projects since 1999, most recently for WMO, World Bank, Network Rail and UKWIR (UK Water Industry Research).

With strong links to the Met Office, where he was Hydrology Team leader from 2003-5, he was instrumental in the development of the Extreme Rainfall Alert (ERA) service and the subsequent, operational service the Flood Forecasting Centre (FFC) uses for surface water flood risk alerting: the decision support tool. He has developed and led comprehensive training programmes for the FFC from 2009 to 2016, providing training to all the FFC's Operational Hydrometeorologists and for staff from the EA, SEPA and NRW. He has international experience in India, Moldova, Algeria, Uganda and Tanzania and has worked on projects in New Zealand and the USA. An experienced presenter and former Chair of BHS South West Section, he has spoken at >40 national and international conferences and authored >20 journal papers and conference proceedings.