World Water Day Cabot Event 2023
The Cabot Institute for the Environment at Bristol University are hosting an in-person celebration and exploration of water-related research at Bristol and beyond. The theme of World Water Day (Tuesday 2 May) this year is: 'accelerating change to solve the water and sanitation crisis' and the invited speaker is Professor Wouter Buytaert from Imperial College London. Professor Buytaert will be speaking on 'Teaming up to solve the global water crisis: reflections on participatory hydrology'.
They are also inviting PGR students to share their water-related research, via a poster session following the presentation. This is a great opportunity to share your work in progress in a relaxed and informal setting. You can use a poster that you may have presented at a previous event, or you can create something new. You can register and find out more details here.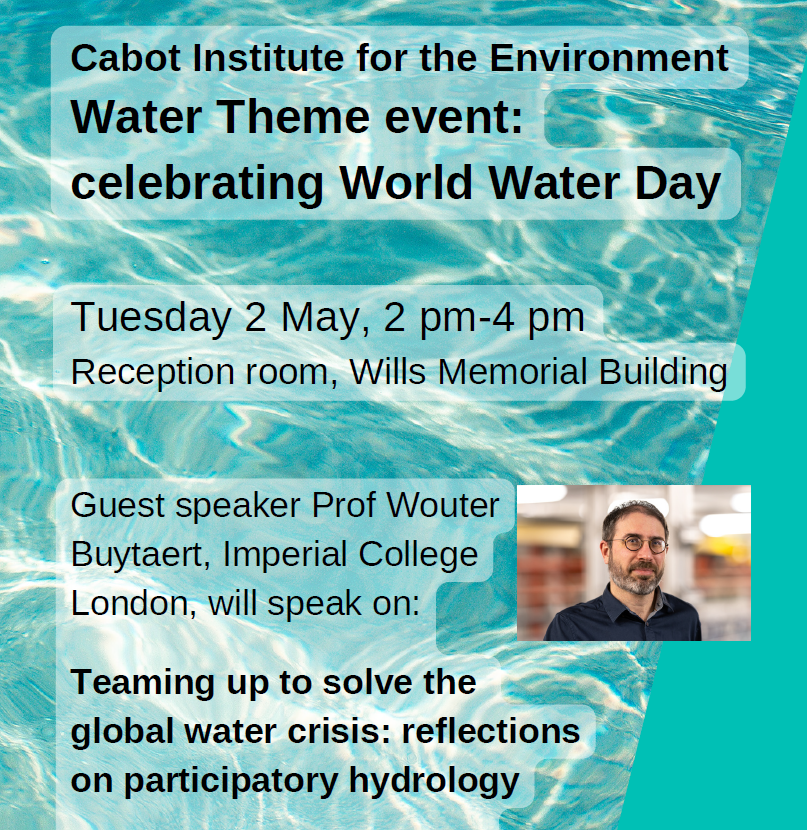 WSA SEMINAR SERIES
The Water Security Alliance highlights cutting edge scholarship within our three research themes by co-hosting one seminar each month with one of our partner institutions. You can access these seminars virtually or attend in person.
---
The Water Security Alliance hosted weekly hybrid seminars between 2020 and 2022 aimed at stimulating discussion and knowledge exchange between academics, researchers, water professionals and students. The series featured topical guest speakers each week. Watch recordings of past seminars.
WSA OTHER events
You can engage with colleagues around water security by attending events run by affiliated departments within your local GW4 institution:
UNIVERSITY OF BATH
Water Innovation Research Centre
UNIVERSITY OF BRISTOL
Cabot Institute for the Environment
CARDIFF UNIVERSITY
School of Earth and Environmental Sciences
School of Geography and Planning
UNIVERSITY OF EXETER