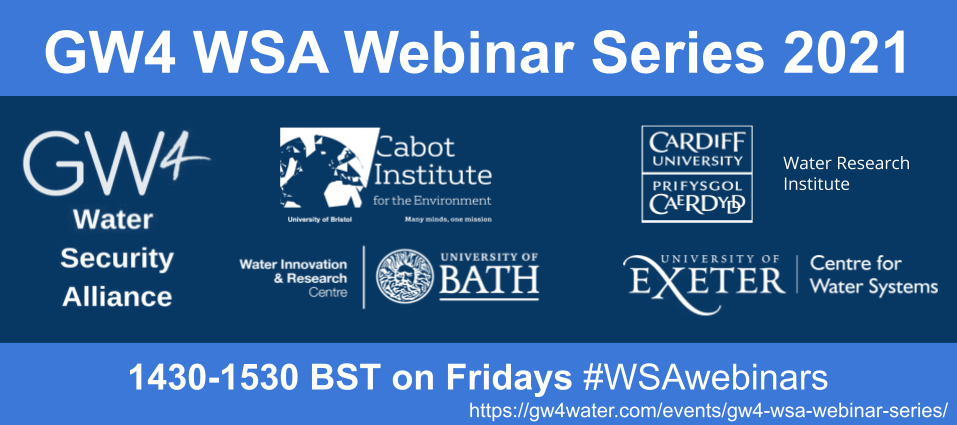 The GW4 WSA is running a weekly webinar series for the academic year 2020-2021.

The series features a guest speaker each week and is aimed at stimulating discussion and knowledge exchange between academics, researchers, water professionals and students.

The series runs every Friday, from 14:30-15:30, and is held on Zoom.
To view recordings of previous webinars from the series, click here.
In order to attend please register here.  
To keep up to date with the series' schedule, please check this page, which will be updated regularly with details of upcoming events, as well as information about previous events. Alternatively, you can click this link to send an email to Professor Albert Chen at the University of Exeter, asking to be included on the series' mailing list.

If you have any issues accessing the Zoom platform, please get in touch using the button below.
Upcoming webinars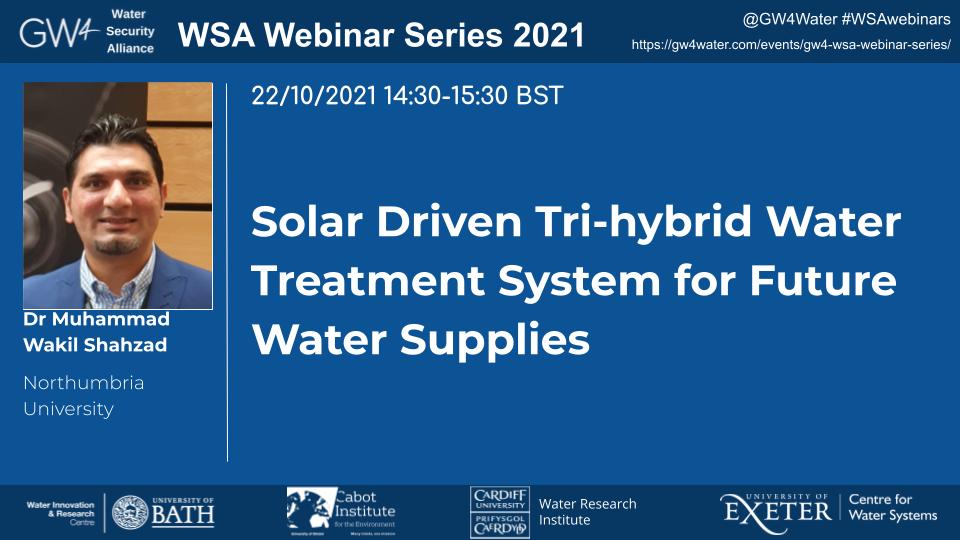 Dr Muhammad Wakil Shahzad
Northumbria University
Solar Driven Tri-hybrid Water Treatment System for Future Water Supplies
22/10/21 14.30-15.30 BST
Abstract
Energy-water-environment nexus is very important to attain COP21 goal, maintaining environment temperature increase below 2oC, but unfortunately two third share of CO2 emission has already been used and the remaining will be exhausted by 2050. A number of technological developments in power and desalination sectors improved their efficiencies to save energy and carbon emission but still they are operating far from their thermodynamic limits. The theoretical thermodynamics limit for seawater desalination at normal conditions is about 0.78 kWh per m3 depending on the initial salt contents. However, practical plants are operated at several folds higher than this limit due mainly to inherent losses in the processes which are incurred in removing dissolved salts. Technological advancement in thermally driven processes hybridization has set the new benchmark for lowest energy consumption that has boosted the water production trend of the desalination industry. In this paper, we presented multi-effect desalination (MED) hybridization with Adsorption (AD) cycle to overcome lower brine temperature limitations of MED and their integration with membrane distillation (VMD) to exploit the energy of rejected brine from the MED system. The overall system is operating 100% with solar energy. The excellent thermodynamic synergy of tri-hybrid MED+AD+MD permits an effective utilization of heat input from sun, leading to a boost in water production up to 3 fold. We showed that the proposed tri-hybrid cycle can achieve the highest performance SUPR>25% of thermodynamic limit: one of the highest reported in the literature up till now. These figures can be translated to less than US$ 0.40/m3: – a lowest specific cost ever reported in the literature. The proposed tri-hybrid cycle is successfully tested at pilot scale at KAUST, Saudi Arabia with solar energy.
About the speaker
I am working as a Sr. Lecturer in the Mechanical and Construction Engineering Department at Northumbria University (NU), Newcastle Upon Tyne, United Kingdom. I worked as a Research Scientist in the Water Desalination and Reuse Center of King Abdullah University of Science and Technology from 2014-2019 before joining NU, UK. I am working in hybrid desalination processes, heating and cooling, solar thermal energy storage and renewable energy research. I won many international awards including, Sustainability Medal 2020, Global Innovation Award 2020, National Energy Globe Award Saudi Arabia 2020 and 2019, Excellence and Leadership Award 2019, IDA Environmental & Sustainability Award 2019. My research is also highlighted at Yahoo business, Nature Middle East, Arab News and many other national and international platforms. We successfully commercialized desalination processes through a spin-off company. I hold 11 international patents. To date, I published 2 books, 17 book chapters, over 70 peer-reviewed journal papers and more than 110 conference papers. I also received three best paper awards in international conferences. I am an editorial board member of NATURE Applied Science journal and serving as a Guest Editor for topical collections. I am also selected as a mentor for the International Desalination Association Young Leader Program (IDA-YLP). I am a member of many professional organizations namely; International Desalination Association (IDA), The International Water Association (IWA) and American Society of Mechanical Engineer (ASME).
| | | |
| --- | --- | --- |
| Date | Speaker | Institution |
| 05/11/2021 | Helen Ticehurst | Met Office |
| 12/11/2021 | Antarpreet Jutla | University of Florida |
| 19/11/2021 | Jan Hofman | University of Bath |
| 3/12/2021 | Jack Greenhalgh  | University of Bristol |
| 10/12/2021 | Julie Barnett | University of Bath |
You can view full details and recordings of our previous WSA webinars on the 'Past WSA Webinars' page.